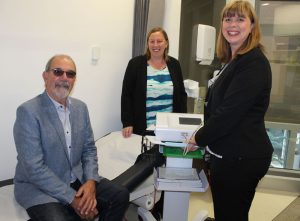 Postie bikes deliver $65,000 for prostate cancer
Organisers of the Great Murray River Postie Bike Adventure, held on the Border in February, have presented a cheque for $65,000 to the Albury Wodonga Regional Cancer Centre Trust Fund.
The money will be used to fund a new part-time clinical trials nurse position dedicated to prostate cancer research.
It comes as the Border Medical Oncology Research Unit, located within the cancer centre, has just secured two new prostate cancer studies which will open up trials to potentially hundreds of new patients.
Organised by the Horizon Committee, the Great Murray River Postie Bike Adventure saw about 50 riders unleash their Honda CT110s on the Alpine region over three days.
A condition of entry was that all riders raise at least $1000 in donations or sponsorship.
Event co-ordinator Dick Phillips said the committee was pleased to be able to pass on the money raised to help prostate cancer patients in the region.
"Horizon Committee has raised almost $2 million for cancer services since 2004, which has included funding for eight oncology nursing scholarships in the Albury-Wodonga region," he said.
"We are now proud to be able to provide this funding for prostate cancer research."
Border Medical Oncology Research Team Manager, Jacqui McBurnie, said the first new trial will involve previously treated patients whose prostate cancer has spread to other parts of their body.
The second will be a biomarker study which will determine if the patient is suitable to go onto another clinical trial or what their best course of treatment might be.
"That's really exciting for us to have that study," Mrs McBurnie said.
"It means we can screen a lot of patients, new and existing, at no cost to the patient."
The Border Medical Oncology Research Unit is currently taking part in five clinical trials relating to prostate cancer, which involve a total of 24 patients.
Two of those studies are still open and recruiting new patients.
The unit is also part of the Regional Trials Network, which links to other cancer research sites in regional Victoria, and is involved in a Victorian Comprehensive Cancer Centre Teletrials Program offering regional patients access to clinical trials in capital cities via video conferencing.