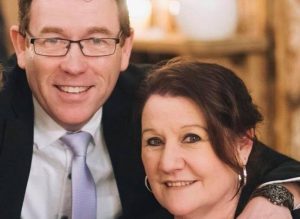 David steps up to 20km challenge
Compared to what they've been through so far this year, walking 20km as part of the Sunshine Walk will be a breeze for David McNamara and his family.
That's because David's wife, Rox, was diagnosed with breast cancer last October and life for the pair since has been a whirlwind of tests, doctors and surgery.
Despite this, David and Rox have signed up to the inaugural Sunshine Walk, on November 24, in the hope of giving back to the Albury Wodonga Regional Cancer Centre.
"It's an excellent facility and very overwhelming to see how many people have to use the place when you're there," David said.
As owner-operator of Wodonga eatery, Café Fifteen, David said he averages 15,000 steps a day and should have no trouble completing the 20km course.
Depending on how her treatment progresses, Rox, who also works in the café, will aim to complete as much as she can of the 20km.
The couple hope to be joined by their four children – Josh, 37, Kira, 35, Jordan, 26, and Stephanie, 23 – and have set a joint fundraising goal of $1000.
Rox, who has completed chemotherapy and radiation treatment and will remain on a therapy drug until October, said she was proud of what David for signing up to the walk.
"It think it's wonderful what he's doing," she said.
"He puts on a brave face, but he's been through a pretty tough time too.
"I don't think people realise what the rest of the family goes through as well."
Anyone wishing to support David and Rox's fundraising efforts can donate online by clicking here