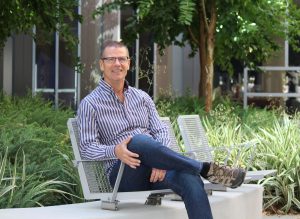 Long-serving board member calls it a day
Founding member and former chair, Grant Luff, has resigned from the Albury Wodonga Regional Cancer Centre Trust Fund board to move interstate.
Mr Luff was one of six original members of the board when it formed in 2013, and served as its second chairperson from 2015 to 2018.
Having formed the charity well before the first sod was even turned for the new cancer centre, Mr Luff said he was "extremely proud" of what had been achieved.
"It's not a proudness for me, but more from the community's perspective that we have got an asset that unfortunately is getting busier and busier," he said.
"We went from no cancer centre to one that sees 250 patients a day.
"And you talk to some of the people who have used it and how impressed they are with the staff, the centre itself and the fact they don't have to travel is significant.
"It's actually really fantastic."
Mr Luff, the Managing Director of his family-owned business Border Express, joined the volunteer board after losing his first wife, Sue, to cancer in 2000 at the age of 36.
Left to care for three young boys as a single dad, Mr Luff wanted to help others who were on a similar journey.
Mr Luff, who has relocated to Queensland, said there were many highlights from his time with the Trust, including the people that he had the opportunity to work with.
"We've got a really strong and diverse board which is important because it can't be reliant on a person; it needs a broad level of competency," he said.
"I think also we've got good staff working day-to-day with the community to support local cancer services, and I think financially we've been able to make a contribution.
"We've been able to make a real difference to the four pillars we set out to support, which is new equipment, staff training, cancer research and the Wellness Centre."