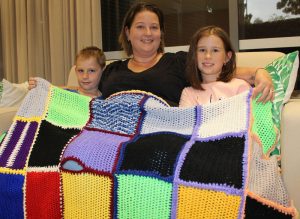 Blanket brings warmth to the heart
It's the patchwork of strangers with one thing in common – all have been patients of the Albury Wodonga Regional Cancer Centre.
A crochet blanket kept in the Wellness Centre comprises squares knitted by radiotherapy patients as they waited for their treatment.
The colourful patches had sat idle in the centre lounge area for about 12 months before they were noticed by Albury grandmother, Nancy Cooper.
Nancy, 71, offered to take them home and make a blanket for patients relaxing in the Wellness Centre.
Unfortunately, she only got a few rows into the project before she was admitted to hospital and later, lost her battle to cancer.
Before her passing, Nancy left strict instructions with her daughter, Lavinia Willingham, to complete the blanket on her behalf.
"Mum was determined to finish what she started so before being admitted to hospital, she laid out the colour combination she wanted ready to finish when she got home," Lavinia said.
"Unfortunately that didn't happen, so she instructed me to finish it once she realised she wouldn't be coming home."
Nancy was diagnosed with pancreatic cancer last September.
It was her second cancer diagnosis after she was treated for non-Hodgkin's lymphoma about 20 years ago.
At that time she had numerous chemotherapy treatments and surgery before being trialled on a new drug called Mabthera – now standard treatment for non-Hodgkin's lymphoma – which eventually put her in remission.
Nancy got to see her two children grow up and get married, and she became a much-loved grandma.
Although determined to beat cancer for a second time, Nancy developed pneumonia from complications and passed away on February 18.
Her blanket, dutifully completed by her daughter, now sits in the Wellness Centre in honour of not only Nancy, but all patients who contributed to it.
"She would be pretty happy that people got to see it and it wasn't just sitting there as squares doing nothing," Lavinia said.
"She wouldn't want all the fuss either, but she deserves it."