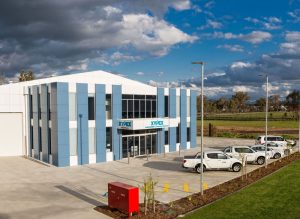 Xypex helps centre to shine
Xypex Australia is a long-standing organisation that has been operating in the local region for more than 28 years.
Managing Director, Rob Godson, said Xypex was a proud sponsor of the Albury Wodonga Regional Cancer Centre Trust Fund and committed to helping it achieve its milestones for at least the next three years, in providing quality care on the Border.
"It is great to be a part of a cause that is so committed to the community and we are proud to continue to support achieving quality care in our local region," he said.
Mr Godson's passion for the growth and prosperity of regional Australia is evident having established his national business in Albury for nearly three decades, and his continued generosity to enhancing the lifestyle and facilities in the local region has been his mandate for many years.
"Local initiatives and regional funding for quality health systems are paramount in contributing in healthier regional centres and the Albury Wodonga Cancer Centre is the perfect example of it," he said.
"Providing and continually striving for specialised equipment, staffing and care, we are proud to contribute to keeping the most vulnerable close to home through local treatment with access to leading facilities and care."
Xypex has committed to providing a total of $81,000 to the Trust Fund over the next three years.