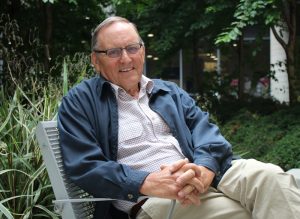 Ray resigns from Trust Fund board
ALTHOUGH stepping down from the board of management in November, Ray Snell says his commitment to the Albury Wodonga Regional Cancer Centre Trust Fund remains unwavering.
Mr Snell, 71, joined the not-for-profit organisation in November 2017 and after serving just one term, has resigned from the board for personal reasons.
It comes after Mr Snell helped improve processes for governance of the Trust and was a key player in its strategic business planning.
"I've thoroughly enjoyed my time of the board and my commitment to the Trust will not waiver in anyway," he said.
"But I think it's time for some new blood on the board."
Trust Fund chair, Michelle Hensel, said Mr Snell brought with him vast experience from previous boards and not-for-profit organisations that he had been involved in.
This included long stints with the EW Tipping Foundation and Westmont Aged Care Services.
"Ray has given us valuable planning and governance of the Trust, and was hands-on with fundraising and attracting new sponsors," Mrs Hensel said.
"He always made me think from a different point of view and he will be greatly missed on the board."
Mr Snell said his business, Snell Management Services, would continue as a corporate sponsor of the Trust Fund.