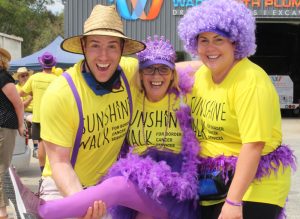 Flood of support for Team Yatesie
In 2019, Mitch Harris took part in the Sunshine Walk in support of a work colleague whose mum was being treated at the Albury Wodonga Regional Cancer Centre.
But in 2020, the cause took on new meaning after his own mum, Lisa Yates, was diagnosed with pancreatic cancer.
Mr Harris, who had previously walked with Beer DeLuxe Albury where he still works, this time completed 10km with Team Yatesie.
"Little did I know that 12 months later I would be experiencing the absolutely incredible service and facilities that the centre offers," he said.
Mr Harris said Team Yatesie was created "on a whim" by his sister, Lucy Smith, and in just three weeks had raised more than $10,000.
"It's an incredible effort," he said.
"The showing of support is for not just mum, but each and every person that's been touched by the Albury Wodonga Regional Cancer Centre and the Albury Wodonga Regional Cancer Centre Trust Fund."
Mrs Yates, whose cancer has spread to her liver, said she couldn't believe the support from the community, especially from her daughter Lucy Smith and work colleagues at Wodonga TAFE.
"It absolutely genuinely makes a difference to know that people care, to know that people want the cancer centre to be successful and to know that, that resource is there for us," she said.
"It's just amazing, and it's only the beginning of our journey, but we've really felt the love.
"All the nurses are brilliant, and we just can not fault the place.
"We feel like home when we walk in and hopefully our money will go towards education and training and helping to make it a better place."