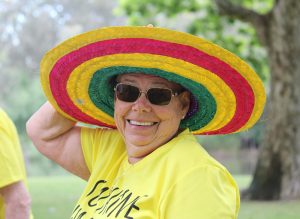 Sunshine Walk done differently
WHILE it couldn't go ahead in its usual format, the Sunshine Walk brought the community together in a different way in 2020.
Held virtually on November 22, the event saw 50 teams with more than 600 participants walk 5km, 10km or 20km wherever they wanted in their communities and then connect online.
They walked in groups of family and friends throughout the region and together, raised more than $200,000 for the Albury Wodonga Regional Cancer Centre Trust Fund.
Trust Fund chair Michelle Hensel hiked 20km with her team, Hume Public School, and said while not everyone was walking together as normal, it was still a great community event.
"No matter where you looked, you could see yellow T-shirts and it just brought everybody together," she said.
"Whether it was just a quick wave, or someone asking how you're going, there was still an amazing atmosphere and a great sense of community spirit."
As well as Albury-Wodonga, Mrs Hensel said there were people walking in outlying towns such as Culcairn, Howlong, Bright and Tallangatta.
Team Rivalea had members walk in their hometowns in Cairns and on the Gold Coast.
"There was even someone walking in America," Mrs Hensel said.
"It didn't seem to matter where you were, what time you started or how far you wanted to walk, people just wanted to be engaged in this event."
Simone Russell walked 5km in Thurgoona with her team, Sammy's Superstars, in honour of her friend, Sammy Williams, who recently completed cervical cancer treatment.
"Sammy said to me that she was so grateful for the care and service that was provided at the cancer centre, and that she'd love to be able to do something to give back," she said.
"So this was just something that we wanted to do for Sammy.
"She's a super strong lady, she's come through this (the cancer), and it's nice to celebrate that and raise money for something that she's been very involved with."
Ms Russell said she was blown away by the generosity of a stranger who stopped their car and got out to donate $20 when they saw the team doing the walk.
Jenny Black, from the Brave Hearts on the Murray team, said it was great to be able to do the walk as a group and remember three members who had lost their battle with cancer in 2020.
"It feels good to be able to have an event where we can walk for three of our Brave Hearts who we miss dreadfully, but we really felt their presence," she said.
"It's an amazing incentive be able to do that and at the same time, raise some much needed money for our cancer centre."