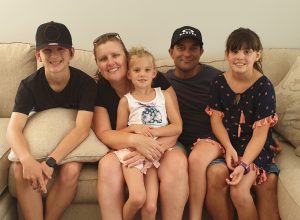 Reconstructive surgery life changing for Regan
FOLLOWING a mastectomy in 2018, Howlong mum Regan Lions was placed on a waiting list to have a breast reconstruction done in Melbourne.
She waited without word for two years before, last October, she became the first person to undergo the life-changing breast surgery at Albury Hospital.
The seven-hour procedure to rebuild her left breast was made possible through new equipment funded by the Albury Wodonga Regional Cancer Centre Trust Fund.
Mrs Lions, 37, said she would be eternally grateful to finally have the opportunity to have the surgery done locally, and to "feel like a normal person again".
"For the last two years I only had one breast which made me feel very self-conscious," she said.
"Being so young especially it really impacted on my self-image, and I wondered what I looked like in my clothes.
"Now to look in the mirror and see two breasts, it makes me feel complete again and that I can finally start to put cancer behind me."
The breast reconstruction was performed by plastic and reconstructive surgeon, Dr Queenie Chan, who joined Albury Wodonga Health in 2019.
Since Mrs Lions' surgery, Dr Chan has performed an immediate reconstruction – done at the same time as a mastectomy – at Albury Hospital for another Border mum.
The $337,000 in new reconstructive surgery equipment funded by the Trust has also been used on a motorbike accident victim, and has the potential to extend to head and neck cancers in the future.
Speaking at the Trust AGM in November, Dr Chan said the equipment including a surgical microscope and skin grafting machine has brought "immense" benefits to Albury Wodonga Health and its patients.
"For many of our patients, it has eliminated the need for them to travel unnecessarily to Melbourne," she said.
"A lot of it has taken away the stress to the patients and their families, having that support close by during their surgery and in their immediate recovery, and of course for their follow up visits.
"This is what is going to provide us with the united and comprehensive service that we so desperately need, and ties in with our oncology medical and surgical services, diagnostics and our reconstructive service as a whole."
Mrs Lions, who was diagnosed with invasive ductal carcinoma in 2018, will be required to undergo a second smaller cosmetic surgery to complete the reconstruction.
She said it made a huge difference to be able to have her surgery done in Albury and so close to home.
"It was so much easier not only for me, but for my family," said Mrs Lions, who is a Trust Fund "Cancer Pal".
"For the kids to know that I'm just down the road and my husband being able to come and see me every day. I was so fortunate not being stuck in Melbourne for weeks.
"Queenie did an amazing job and all the hospital staff were just incredible."