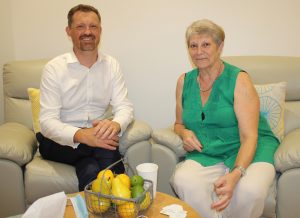 Wellness Centre welcomes a familiar face
After COVID-19 restrictions forced its closure in March, the Albury Wodonga Regional Cancer Centre's wellness facility has reopened with a new coordinator at the helm.
Ben Engel, who has taught mindfulness to cancer patients and their carers at the centre since 2018, has stepped into the role of Wellness Centre Coordinator.
Since reopening the Wellness Centre doors, Mr Engel has been focusing on re-establishing support groups and programs which have been on hold since the start of the pandemic.
Mr Engel, who has previously worked in information technology and human resources, and is also a registered counsellor, said he hoped to introduce new programs and services to the Wellness Centre.
"I'm interested in evidence-based programs and groups and have seen how that kind of psycho-social support for anyone, not just people with cancer, can complement whatever medical treatment they're receiving," he said.
"With my background in IT, I'm looking to deliver these online as well as in person to make the services as accessible as possible."
Mr Engel will also continue to offer mindfulness-based stress reduction programs for patients and carers, as well as pop-up mindfulness clinics.
Welcoming news of the reopening, and of Mr Engel's appointment, is Paule Gauquie, who has used the Wellness Centre throughout her treatment for lung cancer.
Mrs Gauquie, 70, has completed one of Mr Engel's mindfulness courses and says "it has done the trick".
"People ask how I can look so good and I say it's because of my oncologist, Craig Underhill, and the mental attitude I have, having listened to Ben so carefully," she said.
Originally from Sydney, Mr Engel moved to the Albury-Wodonga region in 1998.
He worked in information technology and then human resources at Mars Petcare and other local companies before starting his own business, Border Mindfulness, in 2010.
"I've had an interest in meditation since I was 19 when I went on a silent meditation retreat, and took off from there," he said.
Mr Engel has taught mindfulness to a range of groups and individuals, including five-day retreats in Tasmania for troubled teenagers, and courses for inmates at the Beechworth Correctional Centre.
He has run four programs at the Wellness Centre, catering for about 50 patients and their carers.
For further information, contact the Wellness Centre on (02) 6064 1562 or email [email protected]