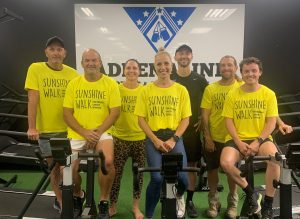 Ride raises $36,600 for cancer
Pushing through pain and mental fatigue, a group of dedicated gym goers has successfully completed a 24-hour bike ride to raise $36,600 for the Albury Wodonga Regional Cancer Centre Trust Fund.
Six teams of five riders saddled up for the challenge on exercise bikes at Adrenaline Boxing and Conditioning on Friday, May 14.
A seventh bike was available for individuals to ride for an hour each.
Organiser Liam Forrest said the response from the local community was overwhelming, with more than 200 individuals and businesses making donations to almost double the original fundraising goal of $20,000.
"To raise over $36,000 was a massive effort for an inaugural event, and I think in total from seven bikes, we rode over 4000km," he said.
"So there were a few tired bodies by the end of it, but we all supported each other and all got around the cause of raising awareness for cancer and the Albury Wodonga Regional Cancer Centre."
Mr Forrest, who rode with team Penny Farthings, said the event was "emotionally, mentally and physically exhausting".
"Between 2am and 6am was probably the toughest part, and a few people looked like ghosts," he said.
"But thinking about why we were doing it, and who we were doing it for, certainly kept me going, as well as the comradery from the people involved in the event.
"There was a great deal of support from everyone and being in a team environment really helps you get through it."
Mr Forrest thanked Asahi Beverages, Adrenaline Boxing and Conditioning, Commercial Club Albury and Black Mount Springwater as major sponsors of the ride.
Steve Ballard, who helped organise the ride and was a member of Team Ballard, said the plan was to come back bigger and better next year.
"We would love for other gyms and sporting bodies to come on board next year to see who can raise the most money for a great cause," he said.