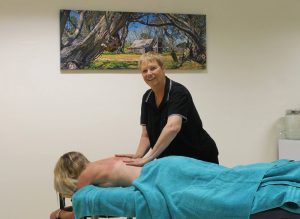 A touch of comfort for cancer patients
Cancer patients in the Wangaratta, Deniliquin and Echuca region can now access subsidised visits to a remedial massage therapist in their hometown thanks to funding provided by the Albury Wodonga Regional Cancer Centre Trust Fund.
Available through the Wellness Centre at the Albury Wodonga Regional Cancer Centre, the $50 vouchers are aimed at relieving stress and tension commonly experienced by cancer patients and carers.
Vouchers can be used at approved oncology massage providers throughout the region, including Wangaratta remedial massage therapist, Margaret Hurd.
Ms Hurd said oncology massage has shown to reduce anxiety, pain, nausea and depression in cancer patients by up to 59 per cent.
"The overwhelming response has been a reduction in stress along with improved sleep," she said.
"One young client said she had the best night's sleep in three years after receiving her first massage, as did her carer.
"It never occurred to them that massage could also form part of the recovery process."
Ms Hurd said oncology massage can also help with lymphoedema, which is a common side-effect of some cancer treatments involving a build-up of fluid and swelling of the limbs.
Other approved massage therapists include Crawford Massage Therapies in Albury, Ken McMullan in Echuca and Heather Hay in Deniliquin.
Vouchers are available by contacting the Wellness Centre on (02) 6064 1562 or emailing [email protected]