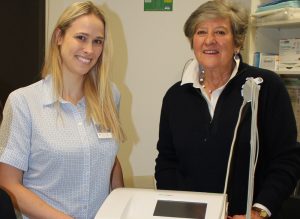 Nurse better prepared to care for patients
A $20,000 scholarship awarded by the Albury Wodonga Regional Cancer Centre Trust Fund has allowed nurse, Tamara Quigley, to advance her skills in patient assessment and care.
Ms Quigley, a nurse with the Border Cancer Hospital, has completed a Master in Nursing Practice after becoming one of two inaugural recipients of the Trust's nursing scholarship program in 2019.
The second recipient was nurse and cancer care coordinator, Nicole Webb, who recently completed a Master of Cancer Science.
After two years of nursing practice study, Ms Quigley said she felt better prepared to care for patients, and also to help educate other staff on the ward.
"My favourite subject was therapeutic medication management as I was able to get a deeper understanding into the medications that we administer," she said.
"This includes things such as how the drugs work on the body and the cancer cells, how the body moves the drug through the system to get the correct effect, and how the side effects work and come to be.
"This has helped me to get a better understanding of cancer treatment and side effects that patients experience and are admitted for and allows me to treat accordingly."
Ms Quigley also completed subjects in research, patient safety and risk management, and advanced health assessment.
"Advanced health assessment has given me the skills to be able to assess my patients in a more comprehensive manner, so that I can pick up deterioration, or a diagnosis that may have been missed," she said.
The scholarship awarded to Ms Quigley was supported by the Berringa community morning tea which in 2019, raised $26,000 for the Albury Wodonga Regional Cancer Centre Trust Fund.
The event in 2020 and 2021 was postponed, with organisers opting to hold a raffle and silent auction at the Peninsula Community Market at Bellbridge on Sunday, June 6.
Ms Quigley thanked the organisers, and wider community, for the opportunity to further develop her skills, and said it was "amazing" to have the opportunity to educate nurses such as herself through the scholarship program.