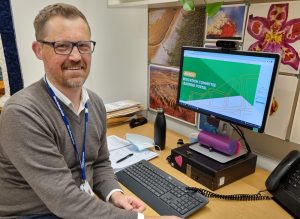 Shared platform offers new ways of learning
STAFF at the Albury Wodonga Regional Cancer Centre now have access to a new shared learning platform that provides more opportunities to further develop their skills in caring for people with cancer.
Part of a three-year, $300,000 education program funded by the Albury Wodonga Regional Cancer Centre Trust Fund, the learning portal will enable staff to access online education sessions anywhere and at any time.
Content will include the regular education sessions offered to staff during their Monday lunchbreaks, which in the past has included topics such as skin care during radiation therapy, cancer survivorship, oral health and older patients with cancer and the Australian Cancer Plan.
It will also include resources from the Albury Wodonga Health palliative care team.
Wellness Centre Coordinator, Ben Engel, helped implement the platform to ensure all staff within the cancer centre would have access to the education resources, including Albury Wodonga Health, Ramsay Health Care, GenesisCare, Border Medical Oncology and Hume Regional Integrated Cancer Service.
"It seemed like such a waste in the past that if you couldn't make it to a scheduled education session, then you would just miss out on the content," he said.
"Given that we've got these amazing people that come and present, it made sense that you could have it available whenever and wherever you wanted."
A second stage of the project will involve the introduction of a Wellness Centre portal, where members of the public will be able to access wellness classes online.
The first class to be uploaded will be online mindfulness, followed by yoga.
There are also plans to include a cancer centre induction program for new staff starting at the cancer centre.
The oncology education program aims to offer professional development, training and scholarship opportunities to oncology staff working within and outside the centre, to enhance the quality of care provided to patients and their families.