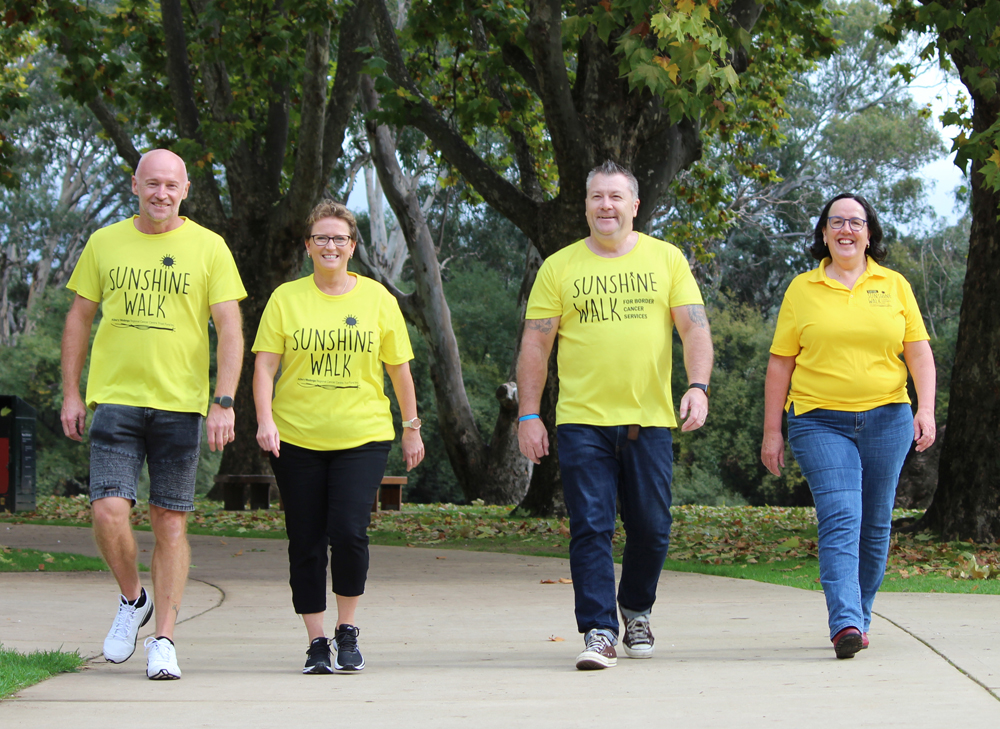 After two years of going virtual, hopes are high that communities throughout the Albury-Wodonga region can come together for the annual Sunshine Walk on Sunday, November 6.
As well as offering a DIY option where participants can complete a route of their choice, the Albury Wodonga Regional Cancer Centre fundraiser will include five, 10 and 20km walks at Albury's Noreuil Park.
Albury Wodonga Regional Cancer Centre Trust Fund board member, Di Thomas, said the first Sunshine Walk was held at Noreuil Park in 2019, but COVID meant participants have had to complete the walk in their own communities since.
"That actually worked out really well for some people because the cancer centre covers such a wide area and we had teams take part in towns as far away as Corowa, Yarrawonga and Bright," she said.
"So we still want to offer that flexibility to allow people to do the walk in their own community, or to take part in the main event in Albury."
The Sunshine Walk has raised more than $650,000 for the Albury Wodonga Regional Cancer Centre Trust Fund over three years.
It is held as part of a week-long campaign, Sunshine Week, which encourages businesses, schools and community groups to host a fundraising event between October 31 and November 6.
Benalla couple, Sunnie and Richard Bull, are Sunshine Walk Ambassadors after Sunnie received treatment for breast cancer at the cancer centre last year.
While she was still undergoing radiotherapy, friends of the couple organised a team called "Sunnie's Squad" to walk 20km and successfully raised almost $22,000.
"The initial fundraising target was set at $2000, so we were just amazed how our community in Benalla rallied to support this wonderful cause," Mrs Bull said.
"We are so lucky to have the cancer centre in our area and we as a family will be forever grateful for everything it's done for us."
Mark Haley, of Albury, is an Ambassador after completing his own 20km route from Albury to Jindera two years in a row.
He said it was a cause close to his heart after losing his best friend Gus Logue to stomach cancer in 2018, and being diagnosed with unidentified primary throat cancer soon after.
"Signing up for my first Sunshine Walk was a simple way of contributing to the Trust Fund and thanking the team at the Albury Wodonga Regional Cancer Centre," he said.
"I didn't realise at the time how emotional and special the walk would become.
"Apart from huffing and puffing, aching feet and calves, it's a wonderful time to remember my friend Gus and other family members that I've lost to cancer, and also how far I've come since my initial diagnosis."
The Sunshine Walk is proudly sponsored by Healthfocus Physiotherapy, McDonalds – NGI Group, Vision Screenprinting, Dutch Media, Dysons and 1494 2AY.
To register, click here