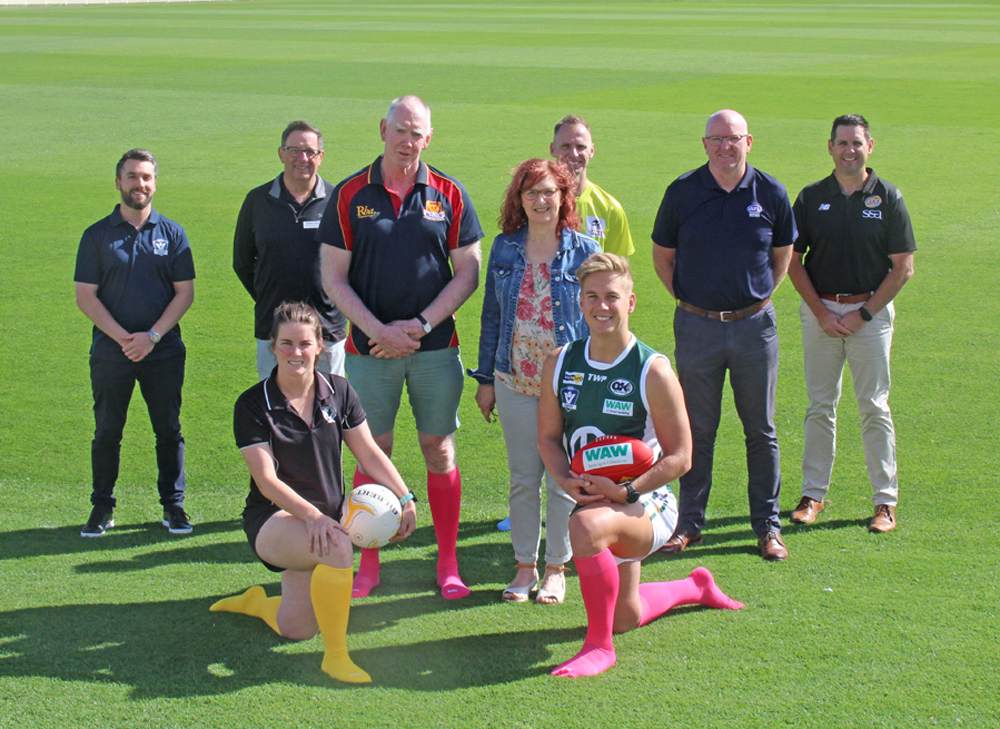 Terry's sock fundraiser kicks off
Former Ovens and Murray Football League star Terry Greaves is back with another fundraiser, this time encouraging football and netball clubs to pull up their socks for families affected by cancer.
Terry Socks it to Cancer invites players and umpires to wear socks in Albury Wodonga Regional Cancer Centre Trust Fund colours at games throughout June, July and August.
The campaign will raise money and awareness for the new facilities, services and research at the Albury Wodonga Regional Cancer Centre.
After being diagnosed with metastatic melanoma in January 2020, Mr Greaves inspired Terry's Big Bearded Ball Drop which raised $180,000 for the cancer centre where he is receiving immunotherapy.
Mr Greaves, of Markwood, said he hopes to achieve similar success with the sock fundraiser so cancer patients in the Albury-Wodonga region don't have to travel for their treatment.
"Our area goes way over to Hay, Deniliquin, up to Bright, Corryong and Mansfield," he said.
"It's a lot easier for people from these areas to go to Albury than to Melbourne to get their treatment. It's very important that we have a really good centre here."
Mr Greaves has partnered with AFL North East Border to deliver the campaign to leagues throughout the region including Ovens and Murray, Ovens and King, Hume and Tallangatta District.
AFL Country Football Manager John O'Donohue backed the campaign after he lost his wife, Lina, to brain cancer.
Lina was diagnosed in 2015 prior to the cancer centre's opening.
"We had to go to Melbourne for a lot of her treatment, but she was able to have radiation therapy at the old facility in Wodonga," he said.
"Otherwise we would've had to go to Melbourne for weeks on end.
"You don't know until you need it, but to have those facilities here locally is a huge bonus."
To donate, click here
Or for sock orders, click here