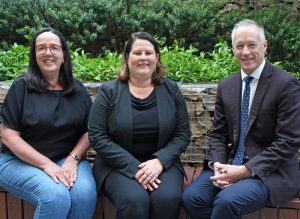 Trust board welcomes new faces
An inaugural member of the Albury Wodonga Regional Cancer Centre Trust Fund has returned following three new appointments to the board.
Former Border Mail Editor, Di Thomas, has joined well-known Albury businessman, David Baker, and experienced bookkeeper, Renea Maskell, as the latest members of the volunteer board.
Now with 13 members of varying skills and experience, the board is responsible for the good governance of the Trust Fund, including the expenditure of donations.
Ms Thomas was inaugural chair of the board when it formed in 2013, and stepped down in November 2015 to take up full-time work in Shepparton.
She returned to the Border in October 2016 to lead a small team at the then Member for Indi, Cathy McGowan's office until the Independent's retirement last May.
"As a result of Ms McGowan's retirement, I made a decision to base myself full-time in Albury-Wodonga and renew my community involvement," she said.
"This is why I am interested in returning to the Albury Wodonga Regional Cancer Centre Trust Fund.
"Community engagement, specifically in the areas of education and health, has been a focus of my time in Albury-Wodonga."
Mr Baker is born and bred in Albury, having only moved away to study business management in Canberra in the early 1980s.
He has since worked at the fourth generation family-owned business, Baker Motors, along with his four brothers, where he is currently Mercedes-Benz Dealer Principal and Group General Sales Manager.
After being approached to join the board, Mr Baker said he was eager to give back to the community which offers such a good quality of life outside metropolitan areas.
He has three children who were all schooled in the region.
"Cancer is a cause that touches everyone in society, particularly in our community, and I just want to contribute where I can," he said.
Ms Maskell has worked as a bookkeeper with BDS Huon for almost three years, after worked in a number of office manager roles with small business.
She has lived in the area for just over 11 years with her husband, Jason, and two sports-minded boys, Jack and Charlie.
"I have always enjoyed being part of the community, from taking part in the Moira Shire Leadership program a number of years ago to now volunteering with the boys' schooling and sporting communities," she said.
"So when this opportunity to join the Trust board came up, I was honoured and took pride in being able to offer my skills to such a great local organisation that supports our community touched by cancer.
"I look forward to working with fellow board members to learn and continue to grow this great organisation."
Other board members are Michelle Hensel (chair), Anne-Marie Humphries (secretary), Anthony Liston (treasurer), John Mollison, Kerry Strauch, Dr Craig Underhill, Bryan Blake, Colleen Gorman, Ray Snell and John Watson.