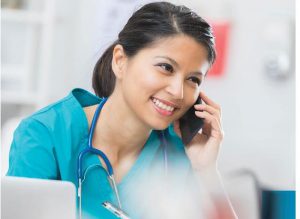 New clinic saving patients a trip to ED
Since being diagnosed with ovarian cancer, Susanne Angus has been to the emergency department three times as a result of side effects related to her treatment.
But an innovative new service launched at the Albury Wodonga Regional Cancer Centre is helping patients like Ms Angus who are receiving anti-cancer treatment to manage these symptoms and reactions before they escalate into an emergency.
Since opening its doors in May, more than 250 patients have sought help from the Oncology Nurse Clinic, including Ms Angus.
After becoming unwell at her West Wodonga home, the 73 year old rang the clinic and spoke to a clinical nurse specialist.
The nurse took note of Ms Angus' symptoms over the phone and arranged for her to come in for further assessment, before being admitted to the day oncology unit for treatment.
"Knowing that there is immediate specialist support available provides peace of mind when you are unwell," Ms Angus said.
The clinic is the result of a collaboration between The Border Cancer Hospital, Albury Wodonga Health and the Department of Health and Human Services' pilot grant scheme.
A telehealth site is also being explored as part of the phase two of the pilot, which would enable the clinic to expand its services to assist remote patients.
Project Manager Louise Martyn said phone triage and walk-in assessment options are designed to provide an innovative approach to the management of patients receiving anti-cancer treatment, allowing them to quickly and easily access support, advice and nurse-led treatment for symptoms or side effects such as nausea, diarrhoea, vomiting and fever.
"If symptoms are not identified and managed promptly, the patient can deteriorate very quickly and become very unwell," she said.
"Early management can avoid this and improve patient outcomes, prevent treatment delays, and assist in avoiding unplanned presentations to the emergency department."
The clinic is available to cancer patients currently receiving treatment at the Border Cancer Hospital.
The clinic is staffed by oncology clinical nurse specialists and is open between 9am and 4pm, Monday to Friday (closed NSW public holidays).
Patients are encouraged to phone the clinic on (02) 6064 1583 before presenting in person.