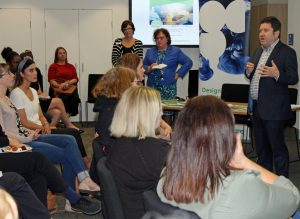 Boost in oncology education and training
The Albury Wodonga Regional Cancer Centre is set to become an education and training hub for those caring for cancer patients throughout the region.
The Albury Wodonga Regional Cancer Centre Trust Fund has invested $300,000 over three years in a new oncology education program launched at the centre in September.
The program is offering professional development, training and scholarship opportunities for both staff working within the centre, as well as those caring for patients out in their own communities.
Trust Fund board member, Bryan Blake, said the program was aimed at enhancing the quality of care provided to patients and their families.
"This initiative is about upskilling staff to ensure our patients receive the very best care available," he said.
"It's important that our health professionals stay up-to-date with the latest practices and continually enhance their skills in oncology treatment.
"Providing these education and training opportunities is also critical in helping to attract and retain health professionals to our region."
Oncologist, Dr Craig Underhill, who is also a member of the Trust board, said the region was "really fortunate" to have the community funds available to invest in oncology training.
"It's really going to make a huge difference to patient care and going to help us attract and retain more staff," he said.
"We could try and do it all ourselves but one of the purposes of this program is to fly in experts from around the country to come to the centre and provide training to lots of people at the one time, so it's just fantastic."
An education committee comprising Albury Wodonga Health, Border Medical Oncology Research Unit, Ramsay Health and GenesisCare representatives has been formed to oversee the program.
The committee has conducted a needs analysis to determine training and education priorities for the region's oncology sector.
Among the priorities is oncology emergencies and pain management, with the first training session – Radiotherapy Overview and Skin Management – held immediately following the launch.
Also with the arrival of a new haematologist, Dr Anish Puliyayil, a focus will be on haematology education.
Mr Blake thanked the community for their support and said without their generous donations, these education opportunities may not be available to those caring for cancer patients in our community.