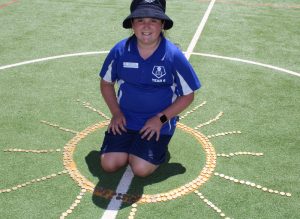 Taylor's bright idea to support Sunshine Week
A sun made from gold coins helped shine a light on the Albury Wodonga Regional Cancer Centre Trust Fund during Sunshine Week in November.
The fundraiser held at Thurgoona Public School was the initiative of Year 6 student, Taylor Furze, who lost her pop John Furze to bowel cancer in December 2018.
Students were asked to donate a gold coin to form a sun in the centre of the school basketball court.
More than $620 was raised and donated to the Trust Fund as part of its Sunshine Week celebrations.
In a bid to garnish support for her idea, Taylor wrote to Principal, Theresa Kane, and spoke at school assembly.
She told the assembly that every coin donated would go to the cancer centre and help save lives.
"Sunshine Week is about raising money for our local Albury Wodonga Regional Cancer Centre," Taylor, 12, said.
"The centre helps our local community members battle cancer, something that a lot of us are affected by."
Taylor drew her inspiration from the two-year battle her pop faced with his cancer, and the wonderful care he received at the cancer centre.
"It made me realise how serious cancer, as a killer, really is," she said.
"I'm not only doing this for my pop, but so other families don't have to go through what mine went through."
Taylor's mum, Carissa Furze, was moved to tears when she was asked about her daughter's fundraising efforts.
"We're obviously extremely proud of what she's doing," she said.
"She's very thoughtful, kind-hearted, generous – all those good words."
Sunshine Week, held from November 18 to 24, encouraged everyone in the community to get together and run fundraising events and activities in support of the cancer centre.
It concluded with the inaugural Sunshine Walk at Hovell Tree Park, Albury on Sunday, November 24.