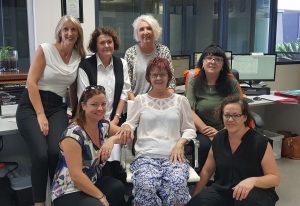 Friends unite to honour Fran
Cleaner Fran Deely once manipulated an office raffle to swap jobs for a day with her Twin City Truck Centre dealer principal, Chris Dziedzic.
She was then photographed drinking coffee at his desk, watching the races on his computer and playing golf as a hilarious portrayal of what a typical day looked like in the top job.
This story, along with many others of a cheeky colleague who lost her battle with cancer in July, will be remembered amongst workmates as they complete the 20km Sunshine Walk in November.
The inaugural event, to wind through Albury and parts of Wodonga, will aim to raise funds and awareness for the Albury Wodonga Regional Cancer Centre Trust Fund.
A group of more than 30 Twin City Truck Centre workers and their family members has come together to form "Team Fran" and walk in honour of their sorely missed friend.
"Even before we lost Fran, we were all committed to walking and raising funds for this incredibly important cause," Twin City Truck Centre administration officer, Suzanne Downie, said.
"As we were creating our team, our beloved colleague and friend lost her long battle with cancer.
"This has only made us more determined than ever."
Ms Downie said Fran's "larger than life personality", "cackling laugh" and "ability to bring fun into everything" would be reflected in the team's Sunshine Walk journey.
"Fran was so much more than her job title and was a huge part of our daily working lives," she said.
"She looked after us all in different ways, always prepared for a chat and to be a friendly ear.
"We are all touched by cancer and although this is a serious cause, we will make the event as much fun as we can, maybe even spraying our hair purple.
"Fran would have laughed and love that."
The Sunshine Walk will start and finish at Hovell Tree Park, Albury on Sunday, November 24.
It will take in some of Albury-Wodonga's best known attractions including the Murray River, Gateway Island and Belvoir Park, with a 5km option also available.
As well as raising vital funds for the cancer centre, the walk will also be an opportunity to celebrate the fighters, survivors and supporters of people with cancer, as well as to commemorate those who have been lost.
In addition to taking part in the walk, the Twin City Truck Centre workers have also organised to have Fran's printed hi-vis vest framed in honour of her memory.
It is then envisaged that Team Fran's fundraising total will be included on the display.
"Although Twin City Truck Centre is already a major Shine supporter of the cancer centre, we are just a group of colleagues personally wanting to help, get involved and make a difference," Ms Downie said.
"Please help us, help them."
Anyone wishing to donate to Team Fran, or sign up to the walk themselves, should click here