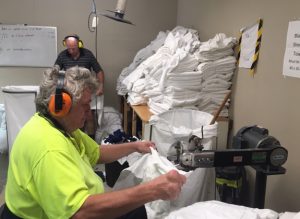 Volunteers turn rags into riches
A Wodonga volunteer group is literally turning rags into riches by recycling old laundry to donate to the Albury Wodonga Regional Cancer Centre.
Jack's Rags sorts, cuts and bags items of used clothing and laundry rejects into 10-20kg bags, and sells them to mechanics and other workshops.
The group donates the proceeds to local charities, including a donation of $6500 to the Trust Fund earlier this year.
President John Skilton said there were very few families that have not been touched by cancer.
"We hope that our donation will be of some assistance to those in need," he said.
Jack's Rags is calling for donations of cotton, linen, towelling items no smaller than 40cm2, and without plastic logos or printing.
These can be delivered to Unit 2, 3 Mores Court, Wodonga.