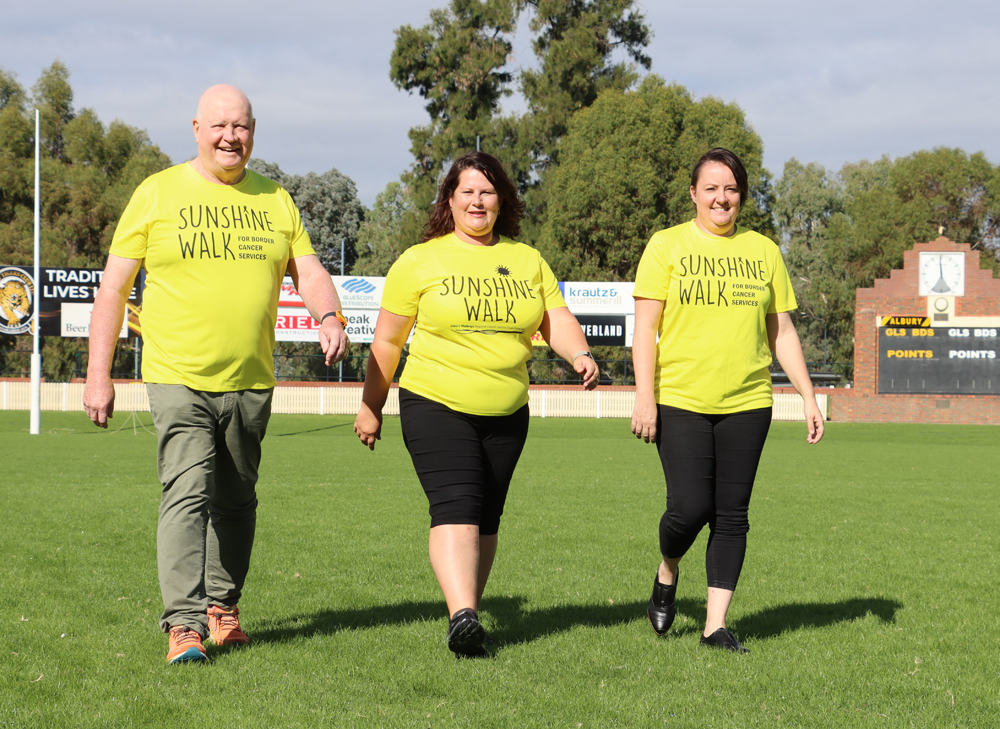 Walk makes riverside return
The Sunshine Walk this year will return to its original setting on the banks of the Murray River.
Registrations are now open for the walk on Sunday, November 12, in support of the Albury Wodonga Regional Cancer Centre Trust Fund.
There will be five, 10 and 20km walks offered from a new start and finish line at Albury Sports Ground, as well as the DIY option which allows participants to complete the walk at a location of their choice.
After the pandemic and then floods last year, Trust Fund board member Renea Maskell was excited to see the event return to its inaugural location along the river.
"We want to take advantage of the popular walking tracks that run alongside the river," she said.
"The DIY option will remain the same where participants can complete a route of their choice. This has been a popular option for communities including Yarrawonga, Corowa, Walla Walla, Bright and Myrtleford."
Sunshine Walk Ambassador, John Watson, has been involved with the event for the past four years through his role as a former Trust Fund board member.
He was diagnosed with pancreatic cancer just before last year's walk, and watched a livestream of the event from his hospital bed.
"Having lost my wife, Christine, to breast cancer in 2017, and now having experienced cancer myself, I know what an incredible service our local cancer centre provides and how important it is to support it," Mr Watson said.
"It's only through events like the Sunshine Walk, where all money raised stays 100% local, that I've been able to access a clinical trial right here in Albury."
Also an Ambassador, TVN On-Country's Sian Cater said she would be working hard to promote the walk after, in 2021, a cancerous tumour was found in her brain.
"I was fortunate to have the cancer centre to support me and my family through the diagnosis, treatment and surgery that followed, and they are still supporting me today," she said.
"It is important to me that when people in our region hear the awful words, 'You have cancer', they also hear, 'We are here to help'."
The Sunshine Walk has raised more than $920,000 for the Albury Wodonga Regional Cancer Centre Trust Fund over four years.
It is held as part of a week-long campaign, Sunshine Week, which encourages businesses, schools and community groups to host a fundraising event between November 6 and November 12.
The event is proudly sponsored by Healthfocus Physiotherapy, Vision Screenprinting, McDonald's NGI Group, 1494 2AY, OtherBirds and Dysons.
To register for the walk or to find out more information, click here