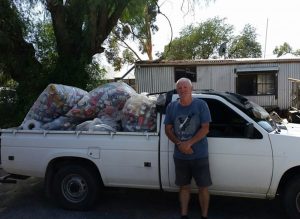 Wayne turns trash into treasure
HOWLONG'S Wayne Lamb is turning trash into treasure by collecting cans to raise money for the Albury Wodonga Regional Cancer Centre Trust Fund.
At 10 cents per item, Mr Lamb has cashed in a whopping 41,000 cans to raise $4100 since March last year.
Mr Lamb said he was motivated to fundraise for the Trust after supporting a number of family members through cancer, including his wife Lisa.
"It keeps rubbish out of landfill and raises money for a good cause," he said.
Mr Lamb collects the cans from the Balldale Hotel, Corowa's Ball Park Caravan Park and from local residents in the Howlong area.
Anyone wishing to donate cans can contact Mr Lamb on 0435 815 014.