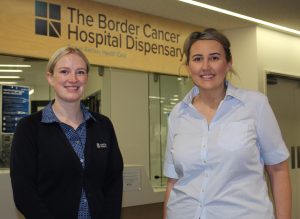 Staff hone in their healthcare skills
SCHOLARSHIPS have been awarded to two Albury Wodonga Regional Cancer Centre staff to further develop their skills in delivering best care to patients.
As part of the oncology education program funded by the Albury Wodonga Regional Cancer Centre Trust Fund, scholarships totalling $5000 were awarded to Ashleigh Amalfi and Belinda Collins in 2020.
Ms Amalfi works as a senior pharmacy technician at Ramsay Pharmacy, and is undertaking a Bachelor of Pharmacy online.
"Studying pharmacy has always been a distant career goal of mine, but it has proven difficult living in a regional area where the nearest pharmacy course in four hours away," she said.
"I have grown up in Albury and worked in various pharmacies over the past 10 years and have noticed a dire need for pharmacists in the area.
"I would love to be able to contribute my already great experience by taking it one step further and providing the benefits to patients of the cancer centre."
Mrs Collins, now an enrolled nurse, hopes to complete her Bachelor of Nursing at LaTrobe University over the next two years.
"After completing my Bachelor of Nursing, I will be able to better meet the needs of my oncology patients by being able to administer chemotherapy and building on my scope of practice," she said.
"I strive to meet the highest level of care to my patients and by furthering my education, this will be achievable."
The Trust Fund committed $300,000 over three years to the education program launched at the cancer centre in September 2019.
The program offers professional development, training and scholarship opportunities for both staff working within the centre, as well as those caring for patients out in their own communities.
Staff education and training is one of four key priority areas for the Trust Fund, and is only made possible through generous donations made by the community.