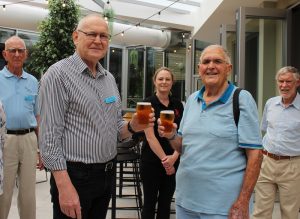 Pub2Pub donation aids prostate cancer research
Proceeds from the 2019 Pub2Pub Run Albury will go towards prostate cancer research at the Albury Wodonga Regional Cancer Centre.
The $11,000 raised has been matched by the Albury Wodonga Prostate Cancer Support Group to provide a $22,000 donation to the Albury Wodonga Regional Cancer Centre Trust Fund.
The money will be used to fund prostate cancer clinical trials conducted by the Border Medical Oncology (BMO) Research Unit.
Prostate cancer support group leader, Glenn Rose, said it was the group's second year of supporting the Trust Fund, with a $15,600 donation last year used to purchase a 3D bladder scanner for patients who have undergone prostate cancer surgery.
"It's important to us that the money we raise stays local to benefit people in our local region," he said.
"The donation this year will help our community to have access to world-class clinical trials and for patients to play a part in the future of cancer treatment."
Pub2Pub run organiser, Brooke Bosse, was pleased the money could go towards prostate cancer, which is one of the most common cancers in Australian men.
"We felt that breast cancer gets a lot of traction so we wanted to help out one that you don't hear so much about, but that still affects a lot of people," she said.
The BMO research unit currently has four prostate cancer clinical trials running involving 14 patients.
One of those trials is for a new drug known as enzalutamide, which has shown to provide a significant improvement in prostate cancer survival rates.
Thurgoona resident, Gary Waugh, has been on the trial since 2016 after being diagnosed with metastatic prostate cancer the previous year.
"I was diagnosed in late 2015 and they found it had spread to my bones," Mr Waugh, 81, said.
"I was asked by my oncologist if I was interested in taking part in a research study and thought that while it might not help me, it might help someone in the future. So I agreed to be a part of it.
"It is fantastic that we can access this research right here in Albury."
BMO Research Team Manager, Jacqui McBurnie, said Mr Waugh has shown to benefit clinically from being involved in the enzalutamide trial.
"That was one of the successful studies that we have conducted and Gary is a great example of the benefits of participating in a clinical trial," she said.
The 2020 Pub2Pub Run was due to be held on Sunday, November 8 but was cancelled because of social distancing restrictions.