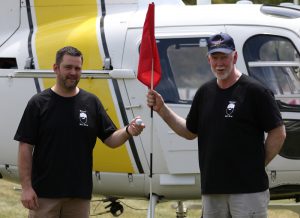 Ball drop fundraiser hits the mark
In just under three months, an army of "bearded ambassadors" from across the Border and North East has managed to raise more than $170,000 for the Albury Wodonga Regional Cancer Centre Trust Fund.
Terry's Big Bearded Ball Drop was officially launched on September 1 with 81 ambassadors signing up to grow a beard, or wear a fake one, to rally support for the cancer centre in their communities.
The ambassadors helped raise $171,300, with further donations expected to be made in the weeks following a ball drop at the Benalla Showgrounds on November 21, which brought an official end to the widespread campaign.
The event was inspired by Terry Greaves, of Markwood, who said he was overwhelmed by its success when he initially thought it would raise just $50,000.
But the former Ovens and Murray Football League star admitted that chasing a target closer to $200,000, did help him through his ongoing treatment for stage four metastatic melanoma.
"It gave me a focus," he said.
"It just took my mind off everything and gave me something to do at a time when I couldn't work."
A key driver behind the campaign was Mr Greaves' long-time friend, Rob Dore, who was supported by a committee of 15 of Mr Greaves' close family and friends.
Mr Dore said not only did the campaign raise significant funds for the cancer centre, but it was also successful in connecting the many communities that it serves.
"We decided the COVID situation was either going to make it incredibly difficult to fundraise, or be an incredible opportunity where everyone is at home, on social media and could come together online to make a meaningful contribution to an important cause," he said.
"COVID left a lot of people feeling helpless, but this was a way for them to do something that really mattered.
"We thought the idea had merit, and it's been shown to be the case."
But Mr Dore said the campaign would not have been the success it was without the inspiration of Mr Greaves, who he described as being a "unifying" character.
"It all comes back to one person's willingness to want to make a difference," he said.
"Terry has done it for all the right reasons. He's a genuine contributor to the community and has been all his life."
Ovens and Murray General Manager, Sean Barrett, was keen to shave after he had already achieved significant growth as a bearded ambassador at the start of the campaign in September.
Although not fond of the beard, Mr Barrett said he enjoyed being a part of the campaign and was pleased to see the football community get behind it.
"It was good to see a few of the boys like Daniel Maher and Will Blomeley getting out there and promoting it on social media," he said.
"I think that element of it, in a period when we're not seeing as much of each other as you normally would, especially with no football this year, they've done a great job sharing it online, getting the word out there and having a bit of fun with it.
"I think that's been one of the real successes of the campaign – it's probably a good excuse to do something that you wouldn't normally do and hopefully that's had a positive impact on the community."
Mr Greaves hoped the concept of the bearded ball drop to raise funds for the cancer centre would be taken up by other communities in years to come.
He thanked the organising committee of Mr Dore, Brittany Evans, Darren Skelton, Anthony Hernan, Kerrie Facey, David Hernan, Emma Greaves, Fraser Stevenson, Gary Abley, Michael Poon, Mick Wilson, Paul Greaves, Paul Taylor, Tim Symes and Heather Greaves, as well as all of the bearded ambassadors.