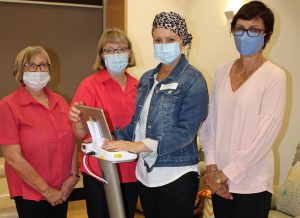 $20,000 device providing early detection of lymphoedema
A new device that can detect early stages of lymphoedema is now in use at the Albury Wodonga Regional Cancer Centre.
The $20,000 bio impedance machine funded by the Albury Wodonga Regional Cancer Centre Trust Fund, is used to assess breast cancer patients who are at risk of developing lymphoedema.
Lymphoedema involves the build-up of fluid and swelling of the limbs, and is a common side-effect of some cancer treatments.
When detected early, patients can be referred to a lymphoedema practitioner for support and management.
McGrath Breast Care Nurse, Robyn Goldsworthy, said the new device would allow up to five new breast cancer patients to be assessed each week.
"Capturing breast cancer patients before they commence treatment or have surgery will allow us to determine a baseline measurement to be used in monitoring for the potential development of lymphoedema," she said.
"The patient can then be referred to on to a lymphoedema therapist for follow up.
"Early surveillance and treatment can lower the incidence of clinical lymphoedema to 14 per cent, compared with the traditional referral incidence of 39 per cent."
Patient Justine Rofe was diagnosed with breast cancer in July and felt comforted that she would be monitored closely for lymphoedema over the next 12 months when the majority of cases occur.
"It gives peace of mind knowing that even if I can't detect a change in my arm, this amazing piece of technology will be able to do it well in advance," she said.
"It means one less thing to worry about while undergoing chemotherapy and radiation, and I'm sure it will provide peace of mind to other women in similar situations too."
Trust Fund chair Michelle Hensel, who is also a breast cancer survivor, said this was the second bio impedance machine funded by the charity this year.
A new updated device was purchased for the Albury Wodonga Health Lymphoedema Service based in Wodonga, in February.
"While lymphoedema can't be cured, its long-term impacts of pain, swelling and infection can be reduced, particularly with early detection," Mrs Hensel said.
"These devices are vital in providing quality care for patients and we thank all our donors who have helped make this equipment available in our region."
The introduction of the new bio impedance machine comes during October's Breast Cancer Awareness Month, which raises awareness of breast cancer and its impact on those affected by the disease.
Mrs Goldsworthy, who is one of two McGrath Breast Care Nurses based at the centre, said breast cancer is estimated to be the most commonly diagnosed cancer in Australia.
"It's important for people of all ages to take the time this Breast Cancer Awareness Month to increase their breast health awareness by finding out what their breasts look and feel like normally, and to encourage their family, friends and colleagues to do the same," she said.