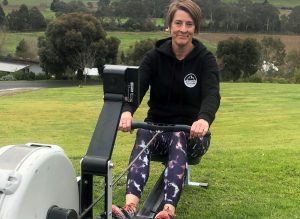 Boot campers log kilometres for cancer
While locked out of their gym, a group of Myrtleford boot campers is on a mission to complete a virtual challenge to row, run or ski the distance to the Albury Wodonga Regional Cancer Centre.
For every kilometre achieved as part of the 74km journey, the group is helping to raise money for the Albury Wodonga Regional Cancer Centre Trust Fund.
Participant and Northeast Health Wangaratta nurse, Helen Howell, said the idea came about after coronavirus restrictions forced the closure of Myrtleford Bootcamp on August 2.
"We're all members of Myrtleford Bootcamp and to keep our fitness up, we decided to set ourselves a virtual challenge and raise money for the cancer centre at the same time," she said.
"We used the My Virtual Mission app to map out a course from the gym to the Albury Wodonga Regional Cancer Centre to row, run or ski by the time lockdown is over on September 13."
About eight Myrtleford Bootcamp members have signed up to the Lockdown Kilometres for Cancer challenge, while other family members including children have also been getting involved.
Participants have hired rowing and skiing machines from Myrtleford Bootcamp, and are running their own routes to complete the distance.
"Some are being sponsored by the kilometre, while others are getting $10 for every kilogram they've lost," Helen said.
"We've also had a lot of people just make donations as part of the challenge."
Helen said a number of the participants have been touched by cancer recently and this was one way of showing their support.
"I have two sister-in-laws who are getting treatment at the cancer centre at the moment and another member just lost her father-in-law to cancer last week," she said.
"You feel so helpless when you're a relative of a person with cancer, so for us it is motivation to keep fit and do something to help them as well."
Anyone wishing to support the group can follow their progress on the Lockdown Kilometres for Cancer Facebook page, or make an online donation with the comment "Myrtleford Mission" by clicking here