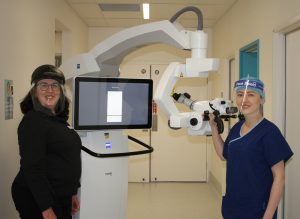 Investment in cancer surgery
The Albury Wodonga Regional Cancer Centre Trust Fund has delivered $337,000 in new equipment to signal the start of reconstructive surgery on the Border.
The equipment includes a $274,000 surgical microscope that will enable cancer patients who have undergone a mastectomy, to have a breast reconstruction at Albury Base Hospital in the future.
It will also give Albury Wodonga Health the opportunity to extend reconstructive surgery to head and neck cancer patients.
The equipment is expected to save at least 38 breast cancer patients a year from having to travel to Melbourne at significant personal and financial cost, and possibly for a number of visits.
Trust Fund board member Di Thomas said this represents the beginning of reconstructive surgery services for cancer patients across the Albury-Wodonga region.
"This means more cancer patients in our region will be able to have surgery done close to home and their support networks," she said.
"Some patients from our region are travelling to Melbourne to have a mastectomy knowing that they will be able to have reconstructive surgery while they are there.
"But this new equipment gives them the opportunity to have it all done here on the Border and with the support of their loved ones."
Acquisition of the reconstructive equipment has also helped AWH secure the services of plastic and reconstructive surgeon, Dr Queenie Chan.
Dr Chan joined AWH in 2019, after spending eight months in the UK where she worked alongside other leading reconstructive surgeons at UK's Southmead Hospital.
"The commitment to connect breast reconstructive surgeries to the existing breast oncology service offered at Albury Wodonga Health is such a positive outcome for the border communities," Dr Chan said.
"It provides a cohesive service and the benefits that this will bring locally are enormous. I have had many patients enquire about the elective surgery wait list, so the demand is certainly there."
AWH Chief Operating Officer Emma Poland said crucial planning work was already underway to commence reconstructive surgery at the hospital.
"We're working towards being able to perform breast reconstructive surgeries locally in the next 12 months," Ms Poland said.
"This is another positive step in AWH's service delivery expansion that will benefit so many in our community and we're very grateful to the Trust and its donors for this generous donation."
Ms Thomas said the extraordinary investment – the largest ever made in the history of the Trust – highlighted the importance of local community support.
"Without funding from the Trust, it may have been many years before this equipment was made available to our region," she said.
"I'd like to thank everyone who helped us raise more than $200,000 at our Sunshine Walk last November, as well as many others who have made donations to our cause."
The new equipment includes a microscope specifically designed for microsurgery, a specialised skin graft machine, a coupler to connect vessels and hand-held Doppler ultrasound to monitor the success of the reconstructive surgery.