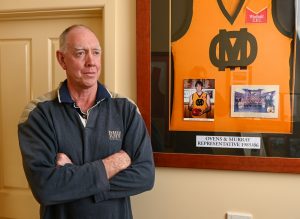 Former football star stands strong in fight against cancer
Well-known and respected for his determination and hard work both on and off the football field, Terry Greaves is showing the same characteristics in his ongoing fight against cancer.
In January this year, the 59-year-old career builder, who now resides in Markwood, was diagnosed with metastatic melanoma and given six months to live.
"They, the doctors, basically told me that I had stage four cancer in most organs and bones. It wasn't good news," he said.
"Without treatment they gave me six weeks."
Terry's diagnosis had a significant impact on wife Heather, and his three adult children Emma, Clare and Sean.
"It's so hard for the families of cancer patients. I can't thank them enough; they have been incredible," Terry said.
Terry's treatment took him to the Royal Melbourne Hospital, Peter MacCallum Cancer Centre, North East Health Wangaratta and the Albury Wodonga Regional Cancer Centre for lifesaving treatment.
"I can't speak highly enough about the care and support I have received from everyone involved in my treatment," he said.
Terry has responded well to immunotherapy and is in remission.
"My life expectancy has gone from six months to two to five years," he said.
Terry, and a small working group made up of family and friends, recently announced a fundraiser with all proceeds going to the Albury Wodonga Regional Cancer Centre Trust Fund.
Terry's Big Bearded Ball Drop aims to raise $200,000 for the centre, and is hoping to recruit more than 100 bearded ambassadors from across the North East Victoria region to raise awareness and drive donations.
"Cancer doesn't discriminate," Terry said.
"It affects us all. We all know someone who has been diagnosed.
"So many people, unfortunately, will use the centre at some point, whether it be family or friends.
"We want people to donate.  People can also help us raise awareness and money by becoming a Bearded Ambassador."
The Greaves family has been inundated with phone calls and messages of support since his diagnosis, including former team-mates at Benalla Demons, Wangaratta Rovers, Benalla All Blacks, Milawa, Moyhu, North Wangaratta, Goorambat and Violet Town.
A member of the Benalla Team of the Century, Terry played 225 games across 14 seasons, mostly in defence.
"The Big Bearded Ball Drop is about connecting our communities and supporting this important regional facility," he said.
"They have made a huge difference to me and my family during my treatment.
"Unfortunately, cancer has impacted all our lives.
"It's important that patients and their families can receive treatment and support in their local area.
"It just makes the whole experience so much easier on everyone.
"For that reason, we are asking everyone who has been touched by cancer to join us, share your story, and raise money and awareness for the Albury Wodonga Regional Cancer Centre."
For further details about Terry's Big Bearded Ball Drop click here
Photos courtesy of The Border Mail