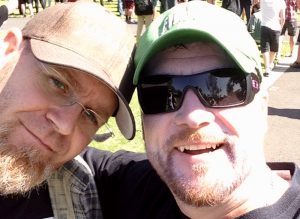 Mark walks for his best mate
Before Mark Haley lost best friend Gus Logue to cancer in March 2018, he promised his former schoolmate that he would be there for his 12-year-old son when he was gone.
But what Mark didn't know at the time was that he also would be diagnosed with cancer and facing the fight of his life just some months later.
"I found out months after we lost Gus and his loss was still very raw," Mark, 50, said.
"I'm Gus's son's godfather; I promised I would look after him after he was gone.
"Telling his family that I now had cancer was a very difficult conversation to have."
For more than 40 years, Mark and Gus had been the best of friends having grown up and gone to school together in Albury.
So when Gus was diagnosed with stomach cancer, Mark was there every step of the way until his passing two years later, at age 47.
Still coming to terms with his friend's passing, Mark became unwell and was diagnosed with non-identified primary cancer, which presented in his throat.
He underwent chemotherapy and radiation at the Albury Wodonga Regional Cancer Centre and at his worst, was cared for in the same hospital room where Gus had stayed just days before he died.
While his family, including three children aged 12 to 24 years, were told to come and say their final farewells, Mark continued to rally and set himself the goal to be out of hospital in time for Christmas.
By the end of November, Mark was back home and on his way to recovery.
After supporting Gus through his treatment, and then being a patient himself, Mark wants to give back to the place that he says was "just wonderful".
He has registered the team, the Woolworths Wodonga Big Shed Walkers, for the Sunshine Walk on November 22, with a goal of raising $3000 for the Albury Wodonga Regional Cancer Centre Trust Fund.
"I feel blessed and so fortunate that I was looked after here," Mark said.
"The experience was pretty awesome really, because everyone was so good to me.
"So if I can give back in some way, I'm more than happy to do it."
Mark has challenged himself to complete the 20km course of the Sunshine Walk.
He hopes that many in the Woolworths Distribution Centre community at Barnawartha, will join him or sign up for the 5km or 10km options.
To join the team or make a donation, click here