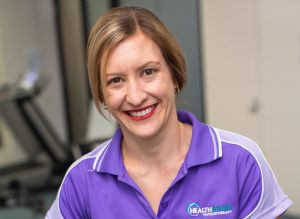 Wellness Centre finds new ways to support patients through COVID-19
A new voucher system introduced by the Albury Wodonga Regional Cancer Centre is ensuring patients can still access vital wellbeing services during the COVID-19 pandemic.
While its doors remain closed, the Wellness Centre will coordinate vouchers for subsidised visits to selected health providers in the community.
Services include physiotherapy and oncology massage, with plans to expand in the future.
Wellness Centre Coordinator Teighan Govett said the initiative, funded by the Albury Wodonga Regional Cancer Centre Trust Fund, aimed to ensure patients could still access the services while strict visitor policies meant that they couldn't be offered at the cancer centre.
"While its doors maybe closed, the Wellness Centre is very much open and we saw this as a way to reach out to patients and carers in the community when we can't do it in the building," she said.
"It's still really important for patients to be able to access these services, which aim to complement the medical treatment offered at the cancer centre and can assist with side effects such as stress, pain and nausea."
Mrs Govett said the new voucher system launched at the start of September also offers its users more flexibility with health providers in the community able to provide extended appointment times.
"When the therapists are here in the Wellness Centre, it's only on certain days and during certain hours, and sometimes that doesn't match up with your appointment," she said.
"By offering the services out in the community it makes it more available to the patients."
The health providers signed up to the program include Healthfocus Physiotherapy, with clinics in Lavington, Albury and Wodonga, and Crawford Massage Therapies in Albury.
Healthfocus Physiotherapy Principal, Simone Bowler, said she was thrilled to be part of the program and helping to optimise the health and wellbeing of cancer patients.
"There is great evidence that continuing to exercise through this journey, and addressing aches and pains that are a barrier to your daily activities, in an individually guided manner, is beneficial for outcomes," she said.
"This is an area we are passionate about.
"As a community-focused organisation we hope we may continue to support our community through this initiative."
The Wellness Centre is also continuing to provide mindfulness and exercise classes online, as well as counselling and support services.
For further information, please contact the Wellness Centre on (02) 6064 1562 or email [email protected]