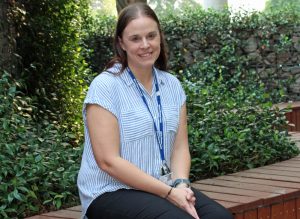 Wellness Centre welcomes new coordinator
CANCER support services and activities offered through the Wellness Centre are set to expand with a new coordinator recently stepping into the role.
Employed as a social worker at the Albury Wodonga Regional Cancer Centre for the past 18 months, Teighan Govett will now oversee a range of wellness and supportive care programs including counselling, art relaxation and cancer support groups.
Ms Govett will also utilise her skills as a social worker to help more people through the Wellness Centre.
"It's a privilege to be involved with people and their families in what is one of the hardest times of their lives," she said.
"To be able to help them work through it and see the strength that they have; and contrary to what people think, cancer is actually such a positive space to work in.
"There's so much community involvement through fundraising, donations and our amazing volunteers.
"Despite the difficult position that people are in, there's the attitude that we're all in it together and we're going to help each other through."
Ms Govett, a born and bred Border local, plans to add to the wide range of services already on offer at the Wellness Centre, with her first priority to introduce a program to encourage physical activity for cancer patients.
"I really want to have an exercise program run from the Wellness Centre just to add to the holistic approach to treating patients," she said.
"It's about looking after the whole person alongside their conventional treatment, and exercise has proven benefits for a person's physical and mental wellbeing."
Other recent developments include a new head and neck cancer support group and the revamped Men Against Cancer group.
Prior to starting at the cancer centre, Ms Govett provided social work in the areas of youth justice, family services and family law for about 10 years.
Ms Govett said she would adopt an "open door policy" at the Wellness Centre, with the community encouraged to provide feedback about the programs and services it offers.
"This is the people's Wellness Centre – it's community funded – and I welcome them to have a say in what's offered here," she said.
Anyone wishing to contact the Wellness Centre can phone (02) 6064 1562 or email [email protected]