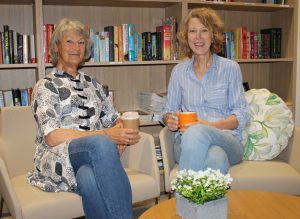 Group support for head and neck patients
Having been through the worst of her cancer treatment, and returning home from five weeks in hospital, Vailia Brushe says she reached an all-time low.
Multiple surgeries on her tongue, followed by a six-week course of radiation, had left her feeling extremely raw.
"You don't realise how debilitating it can be until you've actually gone through it," Mrs Brushe said.
"I spent five weeks in hospital on great painkillers and eating very soft foods, and they also had a nasogastric tube going through to my stomach.
"When I got home I started to go, 'Alright, now what do I eat?'.
"Suddenly all those things that you were craving in hospital like a salad or a steak, you just can't have because your mouth is still too sore from radiation.
"That's when I nearly hit rock bottom and I was ringing the psychologist saying I need help."
Fortunately for Mrs Brushe, her surgeon Dr John Hennessy knew of someone who could offer extra support.
He put her in touch with another patient of his, Vicki Gray, who had been on a similar journey with mouth cancer and the pair met for the first time in late 2018.
They have since forged a strong friendship based on their shared lived experience.
"It's really wonderful to be able to talk to somebody about what you're experiencing, that you may not necessarily talk to your family or friends about because you don't want to worry them," Mrs Gray said.
"So for me that's been really great and knowing that Vailia has gone through a similar experience to me."
Mrs Brusche and Mrs Gray felt that there would be others out in the community who would also benefit from having to talk to, and together, have launched a new head and neck cancer support group at the Albury Wodonga Regional Cancer Centre.
Held at 11am every third Wednesday of the month, the group meets in the Wellness Centre and has a program of guest speakers or planned activities.
But above all, Mrs Gray said the group was about sharing lived experiences.
"While each journey is different, I think it's really important to be able to talk to someone that has been on the journey that you're experiencing from a support perspective and reassurance," she said.
"We all need reassurance no matter how confident we are about things."
Anyone wishing to find out more about the head and neck cancer support group can contact the Wellness Centre on (02) 6064 1562 or email [email protected]