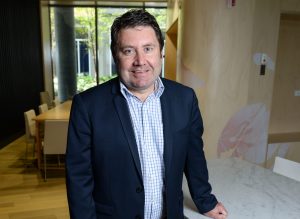 Good news for cancer survival rates
Cancer survival rates continue to improve on the Border thanks to advances in technology and improved access to treatment.
New figures from Border Medical Oncology show that while the incidence of cancer is still on the rise, the number of deaths recorded within the first year of diagnosis has tumbled.
In 2019, a total of 1902 people were diagnosed with cancer, however just 8.6 per cent of those patients died within the 12 month period.
This is compared to 2015 when there were 1026 new cases and 36 per cent of those suffered early deaths.
Albury Wodonga Health Director of Cancer Services, oncologist Dr Craig Underhill, said the opening of the Albury Wodonga Regional Cancer Centre in November 2016 has helped drive up survival rates.
"We have worked hard to have public and private services collaborate together and ensure our patients have access to clinical trials, and new technologies and treatment," he said.
Dr Underhill said in the past, cancer outcomes have relied on five-year survival rates, or how many people survived five years with a particular cancer to monitor how services were performing.
"This might reflect care that occurred five years ago, rather than current care," he said.
"These one-year figures, whilst being less reliable, may help better monitor contemporary care."
One of the major areas of improvement has been in lung cancer, where the number of early deaths fell from 61 in 2015 to 43 in 2019.
This is despite a spike in the number of new patients from 95 to 198 in the same period.
"The statistics for lung cancer suggest not only a big increase in new patients but a big separation between new patients and patients dying that year," Dr Underhill said.
"A few years ago this was almost identical.
"These new figures probably reflect earlier diagnoses and the impact of new treatments, in particular immunotherapy.
"The Albury Wodonga Regional Cancer Centre Trust Fund made a huge contributi9on to timely lung cancer diagnosis by funding (EBUS) equipment for endoscopic bronchoscopes.
"In two years, this has saved hundreds of people needing to travel to Melbourne for this diagnostic procedure."
Dr Underhill said each year, the cancer centre executive sets service priorities for the coming 12 months.
"In 2019, these were developing haematology services, which we made substantial progress with following the arrival of haematologist Dr Anish Puliyayil and advertising for a second haematologist," he said.
"We also set out to address educational and training gaps.
"Thanks to the Trust and the education working party for a huge effort in establishing an education program that will help upskill both cancer and non-cancer professionals across the region.
"We should celebrate where we have come from, where we are now, and be inspired to think where we might go in the years ahead."