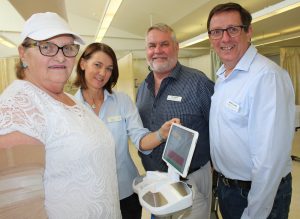 Boost for lymphoedema service
Donations made to the Albury Wodonga Regional Cancer Centre Trust Fund have funded new equipment to expand the Border's public lymphoedema service.
A bioimpedence spectroscopy (BIS) device has been purchased by Albury Wodonga Health following a $16,700 grant from the Trust Fund.
The device provides early detection of lymphoedema, which is a common side effect of some cancer treatments and involves swelling of limbs due to a build-up of fluid.
Lymphoedema cannot be cured but its long-term impacts of pain, poor mobility and infection can be reduced, especially with early detection.
Senior physiotherapist and lymphoedema practitioner, Kate Dahl, said Albury Wodonga Health provided the only dedicated publically-funded lymphoedema service in the region.
"The BIS device we were previously using had become outdated and only had the capacity to measure swelling in a single arm and only in women," she said.
"It was has been used for a number of years to monitor patients undergoing breast surgery at Albury Wodonga Health.
"But this improved technology will give us the ability to better detect and measure swelling in arms, as well as legs, in both men and women.
"It will not only improve the prospective lymphoedema surveillance of people with breast cancer, but will also allow this model of care to be expanded in the future to include people with other forms of cancer such as melanoma and pelvic cancers."
Lymphoedema patient Helen Moreland, of Lavington, underwent breast cancer surgery in January 2019 and has been required to use the new BIS device for regular monitoring.
"The new machine is more accurate and gives you a graph, so I can see if I'm heading in the right direction and know the things I'm doing to reduce the swelling is working or not," she said.
"It's really good and so much quicker too."
Trust Fund board member, John Watson, said the funding was provided to Albury Wodonga Health as part of the Trust's Small Grants Program.
"This is just another example of how we are working to ensure our regional areas have access to the same standard of cancer care as the metropolitan areas," he said.
"This will make a huge difference to people in our community who are at risk of developing cancer-related lymphoedema and we thank all of those who have donated to the Trust to make improvements such as this a reality."
Anyone wishing to make a donation to the Trust Fund can click here