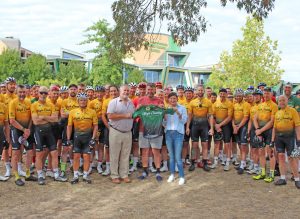 High Country Charity Ride raises $20,000
The Albury Wodonga Regional Cancer Centre has benefited from a four-day charity bike ride in Victoria's High Country that raised money for Tour de Cure.
Organised by Wangaratta cycling group BDA Racing, the High Country Charity Ride will saw 100 cyclists present a cheque for $20,000 to the Albury Wodonga Regional Cancer Centre Trust Fund.
The money will be used to launch a new exercise program for cancer patients in the Wellness Centre.
The charity bike ride, starting and finishing in Wangaratta in February, covered more than 500km of Alpine countryside including a gruelling climb up Mount Hotham.
The event was organised by Tim Briggs, of Bright, who lost his dad to cancer in 2014 and is now supporting his mum through breast cancer treatment.
"Mum has just gone through chemotherapy and a double mastectomy," he said.
"The help and service that she received from the cancer centre, as well as the breast care nurses, has been amazing.
"What the cancer centre does for regional people is saves lives."
The money raised through the bike ride will fund new fitness equipment and an exercise physiologist to run classes twice a week for up to 14 people at a time.
Albury Wodonga Regional Cancer Centre Trust Fund board member, John Watson, said research shows exercise many benefits both during and after cancer treatment.
"It can help with side effects, reduce fatigue and improve mental wellbeing," he said.
"We're thrilled to receive this funding so that we can offer a 10-week program out of the Wellness Centre which will service as a starting point for patients to incorporate exercise to their routine in an ongoing basis."
A second phase of the program will be run in the community with support from Jindera Rural Care Link and Brave Hearts on the Murray.