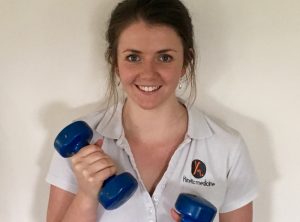 New exercise program for cancer patients launches online
A new exercise program due to start at the Albury Wodonga Regional Cancer Centre in May is now being offered online.
The Can.Ex program aims to get patients moving to help them better manage their symptoms, reduce side effects, and improve their mental health and wellbeing.
It will be offered free of charge to patients following a $20,000 donation last month from the High Country Charity Ride to the Albury Wodonga Regional Cancer Centre Trust Fund.
Wellness Centre coordinator Teighan Govett said twice-weekly workouts had been planned to be held at the centre, but in the current environment with COVID-19 it was necessary to move to an online platform.
"Participants will still have an initial assessment with the exercise physiologist to develop a program that best suits their medical history and individual needs," Mrs Govett said.
"They will then be able to take part in workouts every Tuesday and Thursday from home, using either no equipment or objects that can be found around the house.
"We hope that this will help patients build up their confidence and be a starting point for them to incorporate exercise into their routine long-term."
The program will be facilitated by exercise physiologist Sophie Holman, of Kinetic Medicine, who has previously run similar sessions for cancer patients at the Jindera Community Hub.
Ms Holman said exercise oncology has been shown to have many benefits physically and mentally for patients living with cancer or who have finished their treatment.
"Specific and targeted exercise during and after cancer treatment can have some really great benefits, including maintaining or even improving muscular strength, aerobic fitness and bone density," she said.
"It can also help reduce some of the nasty side effects of treatment such as lymphoedema, nausea and fatigue.
"It can help individuals undergoing treatment stay as strong and healthy as they can be, which may mean they are able to tolerate extended periods of treatment, that they otherwise may not have been able to."
It is hoped a second phase of the program can run in the community, in the future, with support from Jindera Rural Care Link and Brave Hearts on the Murray.
The Wellness Centre's Mindfulness-Based Stress Reduction program will also be offered online starting on Friday, May 1.
Trust Fund board member John Watson said it was fantastic that the Wellness Centre was still able to support cancer patients and their carers in the current climate.
"In addition to these online programs, the Wellness Centre continues to offer counselling and psychology services over the phone for any patients or family members who might need extra support," he said.
"The Trust Fund is proud to be able to support these services, which are particularly important now when patients may be experiencing increased distress as a result of the COVID-19 pandemic."
Further information is available by contacting the Wellness Centre on (02) 6064 1562 or email [email protected]