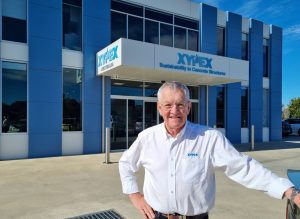 Xypex supporting the community
"IF we can, we should."
This is the simple, yet compelling message of Xypex Australia's Managing Director, Rob Godson, to encourage more people to help make a difference in their local community.
It's also the philosophy behind his decision to pour more than $170,000 into the Albury Wodonga Regional Cancer Centre Trust Fund since the facility's opening in 2016.
As part of his ongoing Corporate Friend agreement with the Trust Fund, Mr Godson has committed to giving $30,000 a year for the next two years.
"It's part of how I feel," Mr Godson said.
"People need to have a bit of responsibility to our community.
"I'd like to encourage other individuals and businesses to support the cancer centre because it's important that if we can, we should."
Mr Godson said the cancer centre "epitomises" what Albury Wodonga has to offer, and how the twin cities service regional communities as far as 200km away.
"The significance of what it means to the region in particular is a drawcard," he said.
"Everyone's been touched by cancer and I think the fact that we now have a regional cancer centre, and we've seen how it's become more dynamic for the region, is extraordinary."
Mr Godson's passion for the growth and prosperity of regional Australia is evident in the international business he established in Albury more than three decades ago.
Xypex Australia employs about 120 people with offices in Perth, Melbourne, Sydney, Brisbane, Adelaide, and South East Asia, and distributorships throughout South East Asia and New Zealand.
According to Mr Godson, the company prides itself on leading their business purpose that being, "doing our part in supporting ecological resilience, further supported by Xypex Crystalline Technology, in achieving long-lasting concrete Infrastructure for now and future generations."
"It's a matter of putting life back into concrete," he said.
"We put a lot of time and research into making concrete more durable to support longer lasting concrete Infrastructure."