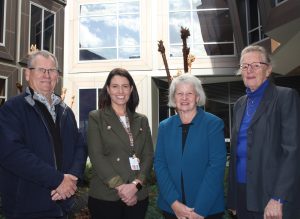 Cancer scholarship named in Tim's honour
TIM Fischer's legacy will live on through a new scholarship named in his honour at the Albury Wodonga Regional Cancer Centre.
Donations made in memory of the former Deputy Prime Minister will be used to establish the Tim Fischer Memorial Scholarship, offering cancer centre staff the opportunity to complete a fully-funded Master of Cancer Sciences.
Offered online through the University of Melbourne, the two-year course, valued at $27,000, aims to upskill staff in the rapidly evolving fields of clinical care and cancer research.
Board member, Bryan Blake, said Mr Fischer was a close friend and long-time champion of the Albury Wodonga Regional Cancer Centre Trust Fund before he lost his battle with myeloid leukaemia in 2019.
"Tim was an incredibly generous supporter of our cause right to the very end," he said.
"On the direction of Tim and his family, we were honoured to receive $24,000 in funeral donations, as well as a bequest of $40,000 from his estate.
"In the weeks before his death, Tim also organised an historic train ride in partnership with Lachlan Valley Railway, which raised a further $8000.
"We are truly grateful for Tim's generosity and believe the scholarship program will be a fitting tribute to honour his legacy for years to come."
Mr Fischer's widow, Judy Brewer, said it was special to be able to continue the connection that her late husband had with the Albury Wodonga Regional Cancer Centre.
"It would have been Tim's dream to see the cancer centre grow and flourish, and what better way to do that than by investing in its staff," she said.
"We were so fortunate to have this amazing hospital, service and beautiful people around us during those last months and days.
"It's a privilege for us to be able to give something back to support this great work in the future."
Lachlan Valley Railway Society chairman, Ross Jackson, also welcomed the scholarship as a way of honour Mr Fischer, who he had known since he was 14.
"I could not think of a better way to invest the money raised," he said.
"Tim would be proud of the legacy."
Applications for the Tim Fischer Memorial Scholarship were expected to open in the near future.