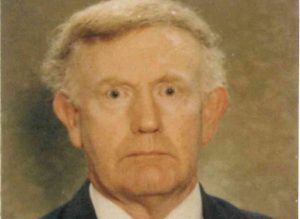 Generous bequest to benefit Border cancer patients
A YARRAWONGA man has left an extraordinary gift in his will that will benefit patients of the Albury Wodonga Regional Cancer Centre for generations to come.
The late John Richard Allan passed away in May, leaving his house and contents to the Albury Wodonga Regional Cancer Centre Trust Fund.
Lawyer and executor of the will, Dale Brooks, said Mr Allan had received regular treatment at the centre after he was diagnosed with lung cancer in October 2020.
"John provided instructions that he wanted to make a gift of his estate to the cancer centre because of the great care he received," he said.
Mr Allan lived on his own, had no family living locally and sadly lost contact with many of his friends.
He told Mr Brooks staff at the cancer centre "really looked after" him, and he knew so many people going through the same tough time that he did with his cancer treatment.
"I don't own much, but hope that my gift will help them," he said to Mr Brooks.
Mr Allan's home at 5 Campbellfield Drive, Yarrawonga was placed on the market with Seeliger Real Estate and once sold, the proceeds will be donated to the Albury Wodonga Regional Cancer Centre Trust Fund.
Trust Fund board member, John Watson, said it was an extremely kind and generous bequest for Mr Allan to make in his will, and one that would benefit many families right across the region.
"We are incredibly honoured to receive Mr Allan's gift which will bring huge benefits for our patients, helping to fund our four key priority areas of equipment, staff training, research and the Wellness Centre," he said.
"It is a great example of a philanthropic donation that will continue to give back to our local community for a long time after Mr Allan is gone."
Mr Allan, 84, was born in Lismore, in northern NSW, and was educated in the New England area.
He moved to Sydney to work as an assistant manager at the Bank of New South Wales (now Westpac) for 38 years.
Mr Allan, who was single and had no children, retired in 1995 and purchased a home in a place he "had never heard of", at Yarrawonga, where there were great golfing facilities.
Mr Allan played at the Yarrawonga Golf Club for more than 20 years, and is well remembered by his golfing buddies and club staff.
He will be remembered by many Yarrawonga locals as both a gentle and kind neighbour, and skilled and competitive golfer.