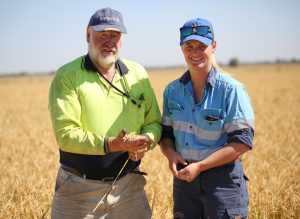 100km fundraiser held in honour of dad
Living in remote, rural NSW, Claire Beer is used to travelling long distances.
But throughout the month of May instead of clocking up the kilometres on wheels, Claire slipped on her walking shoes to travel around local Riverina towns on foot.
Based mostly at her hometown of Coleambally, Claire walked and jogged 100km to raise money for a cause close to her heart, the Albury Wodonga Regional Cancer Centre Trust Fund.
Aptly named "Claire's 100km in May", the fundraiser was inspired by Claire's dad, Andrew Beer, who lost his battle with pancreatic cancer in September 2019.
Claire, who works as a trade welder in Berrigan, said the care her dad received from the cancer centre during his nine-month battle was incredible.
"Having lost Dad to stage four pancreatic cancer has been understandably difficult," she said.
"But the support, confidence and amazing care provided by everyone from the nurses, doctors and palliative care team, to the staff at the café and accommodation linked to the cancer centre, made the tough journey with dad's battle a little easier."
Claire and her dad ran over 600ha of irrigation property at Coleambally, about 200km from the Albury Wodonga Regional Cancer Centre.
Mr Beer first had an inkling something wasn't right when he felt pain on the right side of his body during harvest in December 2018.
Thinking it could possibly be a pulled muscle, Mr Beer saw his doctor in Jerilderie, who sent him on for tests in Deniliquin.
He was told that he had cancer on Christmas Eve.
"My sister and I were informed on Christmas day, and it came as quite a shock," Claire said.
"Dad was only 65, a very active farmer, had been a truck driver for a long time and led a fairly healthy lifestyle."
Mr Beer underwent chemotherapy at the cancer centre and had just started going through the process to go on a clinical trial before he passed.
He was given just three months to live, but made it to nine months.
Claire spent a night beside her dad's bed during his final days, and said he seemed happy and enjoyed giving the nursing staff a bit of cheek.
"It was nice seeing that side of Dad that I hadn't seen before," she said.
"He was quite positive and just spoke so highly of the staff there.
"It was such a terrible time, but it was also quite nice and positive in other ways."
Claire decided to do the 100km fundraiser as a way of giving back to the cancer centre, which she said has helped many families she knows in the Coleambally and Jerilderie area.
Keeping track of the distance through an app on her phone, Claire walked in the area around her home, as well as around her workplace at Berrigan.
She also ran raffle with a fire pit donated by her employee, Berrigan Economy Harrows, and will host a trivia night at the Berrigan Community Golf and Bowling Club on Friday, June 4 with the aim of raising $2500.
"The harsh reality is that I know it won't bring Dad back," she said.
"But if in his legacy, I can raise funds to help other local families impacted by cancer, and make their journey a little easier… then I've hit my target."
To make a donation towards Claire's fundraiser, or for further information about the raffle and trivia night, click here