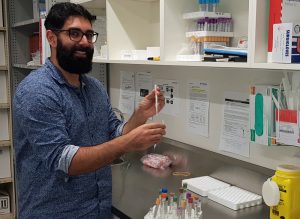 SKILLED intern joins Border research team
Albury-Wodonga's capacity to deliver world-class clinical trials to regional cancer patients has received a welcome boost through a Victorian internship program.
PhD student Arjun Singh Chahal has been placed as a study coordinator at the Border Medical Oncology Research Unit as part of the prestigious SKILLED internship program overseen by the Victorian Comprehensive Cancer Centre (VCCC).
Mr Chahal said the SKILLED program was a great opportunity to enhance training and exposure to clinical trials research and as a result, provide the Border community with more resources to improve access to clinical trials.
"It shouldn't have to depend on whether you live regionally or you live in the middle of the city, the standard of care and amount of resources available to people should be standard," he said.
"So I'm really happy that they have programs like this and glad that there is a clinical trials unit in Albury so people can still stay locally and receive the same kind of treatment that they would at the Peter MacCallum Cancer Centre, St Vincent's, or anywhere in the city."
As part of his nine-month internship, Mr Chahal has been working on two teletrials which link Albury Wodonga Regional Cancer Centre patients with clinical trials run by the Peter MacCallum Cancer Centre in Melbourne.
He is also assisting with a trial that screens prostate cancer patients for their genetic data to deliver more informed treatment.
With a background in basic research limited mostly to laboratories, Mr Chahal said the internship was providing him with the opportunity for more patient-facing interactions.
"While basic research is really important to be able to develop drugs and other treatments, it might be 10 years from lab to clinic and so we don't usually have much to do with anything down the other end," he said.
"So clinical trials has always been something I've wanted to work in where you can interact with patients and see what difference your research can actually make."
Jointly funded by the Victorian Department of Jobs, Precincts and Regions and MTPConnect, the 2021 SKILLED program has seen nine study coordinators and 12 clinical trial assistants mobilised across both regional and metropolitan sites after completing an intensive two-week orientation at the VCCC.
Eleven interns have been placed regionally, reinforcing the importance of striving for regional parity in cancer outcomes for Victorian patients.