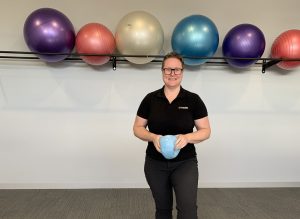 New classes focus on fitness and wellbeing
Yoga classes for cancer patients and their carers will be offered through the Wellness Centre for the first time starting this month.
A new exercise program for patients recovering from treatment will also commence in July.
Funded through the Albury Wodonga Regional Cancer Centre Trust Fund, the yoga and exercise classes have been specially tailored for cancer patients with a focus on improving strength and wellbeing.
The Next Steps exercise program will run over 10-weeks at O-health, Albury, as well as online, by physiotherapist and cancer rehabilitation specialist, Pip Hunt.
Ms Hunt said the one-hour classes are aimed at patients who have either undergone surgery, or completed chemotherapy or radiation, and wish to regain their strength and mobility.
"The aim by the end of the classes is that participants are able to return to regular types of leisure and exercise activities, and no longer require specialist support to exercise," she said.
"The program combines the best of yoga for flexibility, pilates for strength, cardio for aerobic fitness, and relaxation/mindfulness practice."
Yoga is being offered to all patients and carers either at the Wellness Centre or online, with experienced yoga teacher and physiotherapist, Shelly Fruend, leading the group.
The eight-week program which started on June 2 will explore natural breathing patterns, movements to release back, neck and general body tension, a deep relaxation technique called Yoga Nidra, and mindfulness meditation.
"Yoga which incorporates breathing awareness and mindfulness movement is a great tool to assist with physical discomfort and fatigue, and to assist the participant to witness what is happening on the mat during class and then off the mat in daily life," Ms Fruend said.
"There are so many gentle breathing techniques that can be utilised during treatment and daily activities to assist with stress, anxiety and wellbeing.
"Yoga relaxation practices can also assist with sleep quality, fatigue and general wellbeing, as well as building strength if that is what participants need."
Ms Fruend, a former Albury Wodonga Health physiotherapist and lymphoedema therapist, can modify poses and practices to suit individuals.
The next yoga class is scheduled to begin in October.