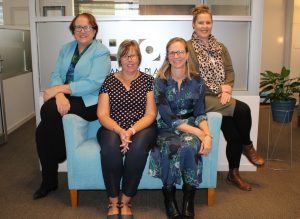 Huon Financial Planning becomes a Trust Fund friend
Huon Financial Planning has come on board as a Corporate Friend of the Albury Wodonga Regional Cancer Centre Trust Fund, committing $15,000 over three years to helping local families impacted by cancer.
Owner Anne-Marie Humphries has also been a member of the Albury Wodonga Regional Cancer Centre Trust Fund Board since November 2017.
She said the cancer centre was a cause close to her heart after her father-in-law Don, who received treatment there, and her dad, Trevor, and friend Jayne, all passed away from cancer in recent years.
"Looking back, it was so important that we were able to be there with them while they were receiving cancer treatment and to have that time together," she said.
"For Don and my Dad, that wouldn't have been the case if they were not able to stay in their hometown where they had lived all of their lives."
Sadly, Ms Humphries said a number of Huon Financial's clients have also been diagnosed with cancer and received treatment at the cancer centre over the years.
"We also have a couple of very special clients currently undergoing treatment there," she said.
Ms Humphries said that being part of the volunteer board was rewarding as everyone was engaged in working towards achieving the goal that people in the local community can access specialist cancer care and support in Albury-Wodonga so they can be close to their family and friends.
If you would like to learn more about becoming a corporate sponsor of the Trust Fund, please phone (02) 6064 1538 or email [email protected]