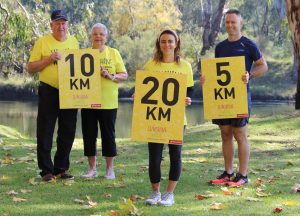 Sunshine Walk takes a different path
The third annual Sunshine Walk will adopt a flexible new format to allow more people to show their support for the Albury Wodonga Regional Cancer Centre Trust Fund.
The event on November 7 will offer the option of either a joint community walk starting and finishing at Albury's Noreuil Park, or a DIY walk at any location.
Trust Fund board member, Colleen Gorman, said the new format would give people the opportunity to support local families impacted by cancer, no matter where they are on the day.
"The virtual event last year saw walkers plan their own routes in outlying towns including Bright, Culcairn and Corowa, and as far away as the Gold Coast, Cairns and even America," she said.
"As our cancer centre services such a wide regional area, it was an easy and more convenient way for some to show their support, and to get their whole town involved too.
"We are also planning to host our main event at Noreuil Park again where people can walk 5km, 10km or 20km with the wider community.
"The main event will take in some of Albury-Wodonga's best known attractions, including the Murray River, Gateway Island and for our 20km walkers, the cancer centre itself.
"It is a wonderful display of community spirit and we'd love if we could again paint the region yellow, with everyone who registers receiving a yellow Sunshine Walk shirt and encouraged to get dressed up to draw attention to this wonderful cause."
The Sunshine Walk has raised more than $430,000 for the Albury Wodonga Regional Cancer Centre Trust Fund since its beginning in 2019.
It will this year be held as part of a week-long campaign, Sunshine Week, which encourages businesses, schools and community groups to host a fundraising event between November 1 and 7.
Sunshine Walk Ambassador, Bobbi Garland, threw her support behind the cause after being diagnosed with early breast cancer in April 2019, when she was just 30.
"Being so young with my whole life ahead of exciting things to come, it came as a huge shock," she said.
"I am so lucky to live in a community which has an incredible centre, kind staff and brilliant doctors.
"I was able to remain local for all my treatments and with the knowledge I was in great hands, as I had no idea what to expect or what I was in for."
Great-grandparents Marie and Bill Orr are Sunshine Walk Ambassadors after being involved in both last year's event and the inaugural walk in 2019.
As the top individual fundraiser for 2020, Mrs Orr, of Wodonga, was encouraged to support the cancer centre after her husband was treated for prostate cancer and later, bowel cancer.
"The cancer centre has saved Bill's life on more than one occasion and I'm just so grateful for everything the staff there has done for our family," she said.
"Taking part in the Sunshine Walk is just a way of giving back and showing our support for others in the community who maybe going through a similar experience with cancer."
To register for the Sunshine Walk, or for further information, click here