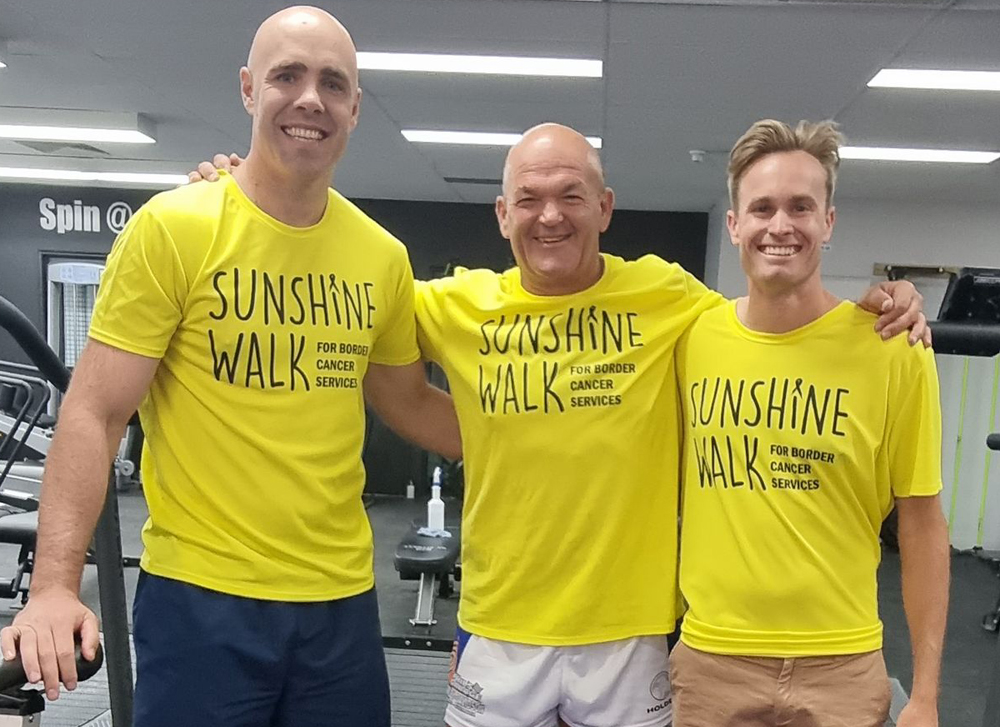 24-hour Sunshine Ride goes regional
A group of gym-goers who completed a 24-hour exercise bike ride for the Albury Wodonga Regional Cancer Centre last May has issued a challenge for others to join them this year.
The 2022 Sunshine Ride will be held on Friday, March 18 with the organisers, from Adrenaline Boxing and Conditioning, hoping to get the whole region involved.
The event has secured former NRL star, Adrian Purtell as an Ambassador after he underwent treatment for non-Hodgkin's lymphoma at the cancer centre.
"I'm extremely grateful for all the staff and facilities that made my journey a little more bearable," the former Albury Thunder coach said.
"I urge everyone to jump on a bike if you can, help raise funds, or donate with all money going directly to the cancer centre.
"We're so lucky to have such an amazing facility right on our doorstep and you never know when you or someone you love is going need it."
Mr Purtell is joined by Border cycling star, Jesse Featonby, as a Sunshine Ride Ambassador and a long-time supporter of the cancer centre.
Mr Featonby did an hour on the bike for the event last year and said what itachieved was "truly inspiring".
"There were some pretty tired looking bodies getting around towards the end but I think that the small amount of suffering they did was nothing compared to what people with cancer go through," he said.
"The cancer centre is such an amazing facility to have here in our community and it's an honour to be able to support an event that raises money for a great local cause."
The inaugural Sunshine Ride held in May, 2021 at Adrenaline Boxing and Conditioning raised $36,600 for the Albury Wodonga Regional Cancer Centre Trust Fund.
It saw 30 riders saddle up on six bikes for 24-hours straight, while a seventh bike was available for individuals to ride for an hour each.
Organising committee member, Steve Ballard, whose wife Debbie was treated at the cancer centre for breast cancer, hoped more money could be raised this year.
"We would love to involve other gyms, sporting clubs, businesses and community groups from right across the region," he said.
"Anyone can join in, as long as they've got access to a stationary bike and a team of five cyclists that can help them keep the pedals turning over for a full 24 hours.
"The challenge then is not how far or how fast you can ride, but asking people to help you fundraise for a great cause."
To register or for further information click here