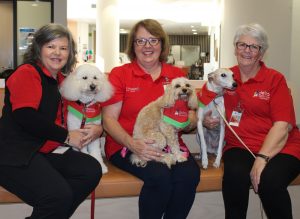 Paw-fect influence on patients
With the touch of a nose and wag of the tail, these four-legged friends are helping to brighten the day of patients and carers of the Albury Wodonga Regional Cancer Centre.
As part of the Delta Therapy Dogs program, Willow, Mindy and Shelly visit the cancer wards and waiting rooms with their owners each week to bring joy to people who need it the most.
They are greeted with smiles, laughter and in some cases, a sense of calm amidst the chaos of a cancer diagnosis. Lynne Morey, whose mini groodle Willow is part of the pet therapy program, said it was an honour to be able to have such an impact on people during difficult times.
"Even in the parking lot a lady came up to me and said, 'Don't you underestimate what you do. I was with a friend who got bad news and when she turned around and saw Willow, her whole day just changed'," she said.
"You're changing people's spirits." Norma Garrett said a visit by her whippet, Shelley, is a "little interlude" for some people who are having an otherwise ordinary day.
"I've encountered some patients up there who, half an hour before we've arrived have been told that there's nothing more that can be done for them," she said.
"They've got no relatives there at that moment and when I walk in, all they want to do is talk.
"Shelley jumps up on the bed and lays straight down beside them so they can pat her."
Elizabeth Hemsley said a moment with her cavoodle, Mindy, takes people minds off where they are and what is happening to them.
"That goes for the staff as well," she said.
"The staff need a little bit of therapy sometimes and they love the dogs too."
A fourth Delta Therapy Dog, Charli, also visits the cancer centre along with owner, Irene Campbell.