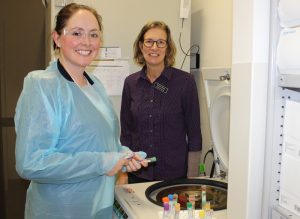 Boost for clinical trials
More clinical trials will open up to cancer patients across the Border following a $360,000 investment by the Albury Wodonga Regional Cancer Centre Trust Fund.
The Trust has committed $300,000 over three years to fund the employment of nurse Louise Martyn four days a week in the Border Medical Oncology Research Unit.
A further $60,000, raised by the Great Murray River Postie Bike Adventure in February, has been allocated towards the appointment of Cindy Shaw as a dedicated prostate cancer research nurse three days a week for 12 months.
The funding will mean an increase in the number of patients recruited to participate in clinical trials, and better support of rural patients and families with clinical research data is collected.
It may also impact on future treatments for patients diagnosed with cancer.
Trust Fund Manager Kristy McMahon said without community support, these investments in to clinical trials wouldn't be able to happen.
"We thank everyone who's donated to the Trust because it's meant that more patients will have access to world-class research close to home, without the need to travel to Melbourne or Sydney," she said.
Ms Martyn joins the team with extensive experience in ICU and is looking forward to the opportunity to better understand the biology of cancer and investigate new treatments.
"I've always had an interest in research and being able to work with cutting edge treatments that you wouldn't normally get exposure to when you're on the floor," she said.
"It's really exciting to be able to contribute to treatment innovation with the goal of improving patient outcomes."
Ms Shaw has worked as a senior clinical nurse with the research unit since 2013.
In her new role, Ms Shaw will oversee two prostate cancer clinical trials already being undertaken by the unit, as well as two more awaiting activation.